Phu Quoc prepared to welcome foreign tourists under pilot scheme
20:12 16/07/2021
PSNews - With the aim of intensifying tourism amid COVID-19 pandemic, Phu Quoc island is planning to vaccinate to vaccinate its residents and tourism workers, in preparation for launching its pilot policy aimed at welcoming back international tourists in the future.
According to Kien Giang People's Committee, there are approximately 127,607 people who will be vaccinated in the island city of Phu Quoc. Of the figure, 60,000 people who are officials and employees working in the hospitality sector, especially at tourist resorts and amusement parks, will be selected during the pilot vaccination scheme.
This comes after the Ministry of Culture, Sports and Tourism had previously proposed that Phu Quoc pilot receiving international visitors from October with 2,000 - 3,000 tourists per month through charter flights touching down on the island for the first three months of a trial scheme.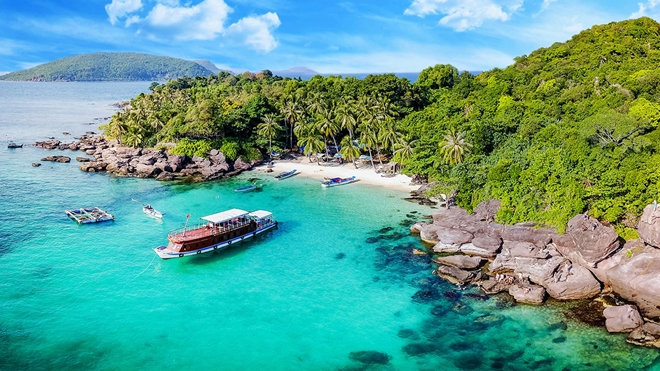 Phu Quoc to welcome 40,000 foreign tourists under pilot scheme. Source: SASCO.

Foreign visitors who have a COVID-19 vaccination certificate which is recognised by Vietnam will be eligible to visit the island, with certificates valid for no more than 12 months.
Alternatively, visitors could enter by using a certificate stating that they have recovered from COVID-19 and the certificate is valid for 12 months from their hospital discharge to their date of entry. They must also have a negative RT-PCR/RT-LAMP test result within 72 hours before departure.
Guests can register to participate in a package tour programme through a local travel firm, during which time they must strictly abide by preventive measures in line with the Ministry of Health's regulations.
Tourists from countries and territories which are potentially safe against COVID-19 in regions such as Northeast Asia, the United States, the Middle East, and Europe, will be welcomed as part of the scheme.
The Ministry of Culture, Sports and Tourism says it targets markets with a high vaccinate rate including China, the Republic of Korea, Japan, Taiwan (China), the US, Germany, the UK, Russia, and France.
Furthermore, the Khanh Hoa Provincial People's Committee also announced that it adopted a pilot scheme aimed at welcoming international tourists who have valid vaccine passports via charter flights.
It is hoped that these positive signs will help the tourism industry rebound after a long period of being heavily impacted by the COVID-19 pandemic.