Early voting held in Truong Sa island district
Thứ Ba, 18/05/2021, 10:27
PSNews - Twenty polling stations in Song Tu Tay commune, Sinh Ton commune, and Truong Sa (Spratly) town on May 16 completed early voting for deputies to the 15th National Assembly and People's Councils.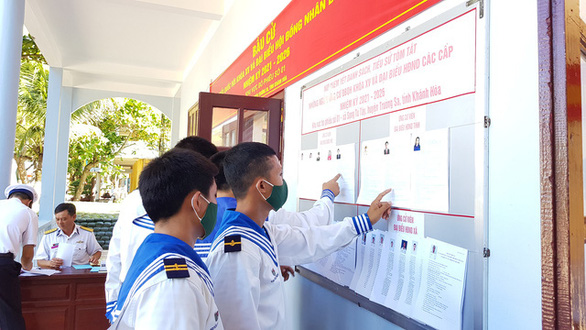 Early voting held in Truong Sa island district,
As the COVID-19 pandemic has become more complicated, prevention measures were put in place to ensure safety for locals.
early elections in Truong Sa were held in accordance with plan, order, safety, and law. The islands increased their vigilance and combat readiness to defend national sovereignty during this general election.
Chairman of Truong Sa district People's Committee Le Dinh Hai, head of the district's electoral commission, said that prior to the election day, two surveillance vessels were arranged to transport ballot boxes, voters' cards, and decorations serving the elections to each island and polling station, adding they would receive the ballot boxes and return to the shore by May 22.
Truong Sa district has six election constituencies with 24 election groups, three of which held early election. Voting in remaining electoral units of Truong Sa district will be held on the official date of May 23.
Khanh Hoa province has 13 candidates for the upcoming NA election, including three nominated by central agencies, who will compete for seven seats in of the 15th National Assembly.