COVID-19: Laos continues to extend lockdown order for another 15 days
20:24 04/07/2021
The Lao Government on July 4 continued to extend its lockdown order for an additional 15 days to prevent COVID-19 from spreading amid complicated developments of the pandemic in neighbouring countries and the penetration of Delta variant in the Southeast Asian country.
This is the fifth time the country has prolonged the order since it was first applied on April 22.
Pubs, bars, karaoke parlours, entertainment venues, snooker halls, massage parlours, spas, and internet cafes are to remain closed.
Indoor sport centers are to remain closed, while contact sports such as football and martial arts remain prohibited in Vientiane capital or any province with an outbreak.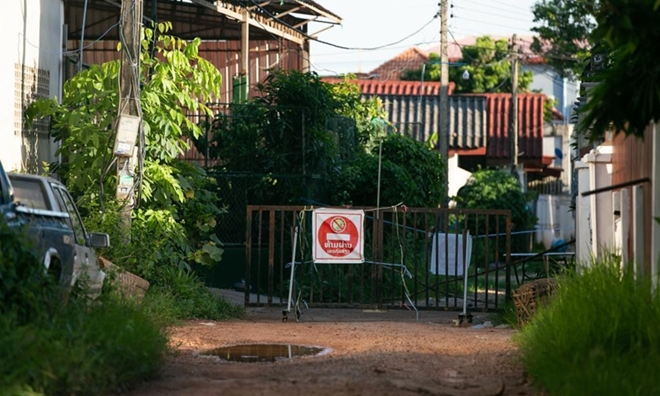 A blocked area with COVID-19 cases in Vientiane, Laos. Photo: Xinhua

All educational institutions in Vientiane capital are to remain closed except for those with boarding facilities.
All factories and handicraft operations in red zones are to close, except for those wherein employees have received two doses of COVID-19 vaccine, and have dormitories on site, or those producing essential materials.
Entry into red zones will remain prohibited, except for persons authorized by the Taskforce or local authorities. Gatherings or parties of any kind may not be held at any form.

However, shopping malls, retail shops, supermarkets, minimarts, and fresh markets that comply with COVID-19 prevention measures may remain open. Outdoor exercise and non-contact sporting activities are permitted. Tourist sites and food gardens may reopen in provinces without community spread of the virus but are prohibited from serving alcohol.

Public agencies and enterprises in Vientiane are allowed to operate normally, while education facilities at all levels in localities without any community infections are allowed to continue to open.

The Ministry of Health on July 4 noon reported 32 new COVID-19 cases in 24 hours in five out of 18 localities, including only three found in the community.

Meanwhile, all foreigners will have to show their COVID-19 vaccination certificates and negative polymerase chain reaction (PCR) test results before entering Indonesia from July 6.

Under a document issued on July 4, the Coordinating Ministry for Maritime and Investment Affairs said that diplomatic officials will not have to show their vaccination certificates in official visits.

Indonesian citizens hoping to return the country have to produce negative PCR test result if they do not have vaccination certificates. They will be sent to quarantine and get COVID-19 vaccine shots immediately. The quarantine time is eight days with two PCR tests.