An Giang asked to develop infrastructure for cross-border trade
Chủ Nhật, 18/06/2023, 19:48
Prime Minister Pham Minh Chinh on June 17 asked the Mekong Delta province of An Giang to mobilise resources to develop infrastructure for cross-border trade.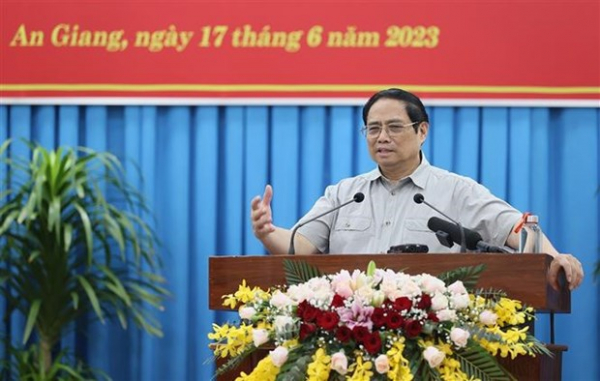 Prime Minister Pham Minh Chinh on June 17 asked the Mekong Delta province of An Giang to mobilise resources to develop infrastructure for cross-border trade.
During his working session with provincial leaders, Chinh said that An Giang shares a 104-km borderline with Cambodia and has two international border gates, which are favourable conditions for developing border trade with Cambodia and connecting with ASEAN. 
"An Giang must build a border of peace, friendship and development, develop a solid defensive area in terms of national security, and promote economic cooperation," Chinh said.
Provincial leaders must drastically and synchronously implement solutions to promote the three growth drivers - export, consumption, and investment, as well as focus on infrastructure planning and development, he added.
PM Chinh also noted that An Giang province should focus on developing digital infrastructure, digital transformation, and an innovation ecosystem; continue to effectively implement the strategy for sustainable agriculture and rural development and the strategy for cultivation, animal husbandry, fisheries, and forestry; accelerate industrial restructuring towards increasing the proportion of processing and manufacturing industries; continue to develop industrial production and gradually create more branded competitive products.

An Giang must promote import and export activities and diversify tourism products to meet new market trends, he went on.

PM Chinh asked the province to strengthen the management of natural resources, environmental protection, and climate change responses.

Besides further investment in healthcare, education, and training, the province needs to effectively implement the National Target Programme on socio-economic development and social welfare for people of ethnic groups, he said, requesting the province to improve its governance and public administration performance indicators (PAPI) and administrative reform index (PAR Index), and strengthen anti-corruption work.

Earlier the same day, PM Chinh ordered simultaneously beginning the construction of four components projects of the first phase of the 188km Chau Doc-Can Tho-Soc Trang expressway.

Crossing the Mekong Delta region, the expressway begins in Soc Trang province's Tran De port, runs through Hau Giang province and Can Tho city, and ends in An Giang province's Chau Doc city. It is designed to be 32.25m wide and have six lanes, with its total cost exceeding 44.69 trillion VND (1.89 billion USD) sourced from the central and local budgets.

The project is divided into four sub-projects, whose investment management agencies are the People's Committees of Soc Trang, Hau Giang, and An Giang provinces and Can Tho city. The expressway is expected to be completed in 2026 and the entire project in 2027.

Addressing the ceremony, PM Chinh said the expressway would be the first horizontal axis one in the Mekong Delta, connecting the region with the national expressway system. It was expected to be one of six expressways that change the Mekong Delta as well as connect many economic centres, international border gates and seaports, he added.

The Government leader said that the implementation of the project was a step to realise the Resolution of the 13th National Party Congress as well as the guidelines and policies of the Party and State on infrastructure and social-economic development, and on ensuring national defence and security in the region.

He also highlighted the need to build the Mekong Delta into a key economic region with high and sustainable growth, adding that the region has abundant potential but its transport infrastructure remains limited at the moment.

The PM affirmed that the Government always paid attention and worked drastically so that the project and other infrastructure development projects are completed on schedule and with quality, meeting the requirements of socio-economic development and improving people's living standards.

He ordered the construction of the expressway to be done quickly, efficiently, safely and without waste.
The same day, the leader visited An Giang Ethnic Minority Boarding High School and the family of a wounded soldier in Chau Doc city./