Nikkei Asia: Vietnamese air freight industry accelerates despite COVID-19 pandemic
23:38 05/05/2022
Nikkei Asia has recently analyzed the strong recovery of the local air freight industry as the country moves passed the COVID-19 pandemic.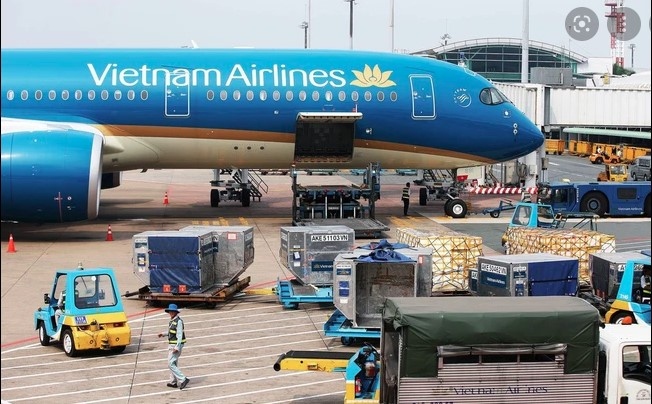 According to the article published by Nikkei Asia, the Vietnamese air cargo industry is pushing through the pandemic and other challenges facing the global economy, with the number of flights picking up and a new homegrown freight carrier set to take to the skies.
The nation's air cargo traffic for this year is expected to grow by 17% from last year to reach over 1.52 million tonnes, according to local media outlets, therefore accelerating beyond the average annual expansion of 15% over the last 30 years.
This comes amid surging demand for domestic and overseas freight as the country strives to cement its position in global supply chains for everything from electronics to clothing, with its overall exports jumping by nearly 20% to approximately US$336 billion in 2021.
Nikkei quoted a senior executive of a major foreign logistics company with a facility based in Hanoi as saying that March was a record in terms of volume handled, "Even with the COVID pandemic, you can really feel the momentum of Vietnam."
Growing appetite has therefore pushed up the cost of exporting by plane, however, with several industry insiders noting that such air freight rates remain two to four times higher than pre-COVID levels.
As one of the country's largest conglomerates, IMEX Pan Pacific Group is in the process of looking to land new business through its IPP Air Cargo subsidiary, which it expects to begin operating by the year-end as the first Vietnamese company specialising in air freight. 
Moving forward, it plans to launch with a fleet of five aircraft, before doubling that over the next five years. It will initially establish routes between local airports and the country's two largest international airports, with one being near Hanoi in the north and the other close to Ho Chi Minh City in the south. 
It has assessed that foreign carriers are currently responsible for just under 90% of Vietnamese air cargo and it will consider partnerships with overseas airlines to tap into increasing export demand.
Furthermore, DHL is boosting its regular air cargo services between the nation and the United States. Once a week, a Boeing 777 freighter will fly from Sydney in Australia to Ho Chi Minh City, before heading on to Chubu Airport in central Japan and then the state of Ohio in the US. The company's cargo handling capacity between the country and the US will by grow 27% from previous levels to reach a total weekly volume of more than 940 tonnes.
Most notably, ANA Cargo, which operates under the ANA Holdings umbrella, started a dedicated daily freight route between the nation and Narita Airport in March. It also increased "passenger cargo flights" from last fall, with aircraft that usually carry people instead being used to transport cargo after COVID-19 decimated demand for travel. 
Korean Air, as well as Taiwan's China Airlines and EVA Air, also have cargo routes both to and from Vietnam. The Korean carrier handles exports of Samsung Electronics smartphones produced locally. "Not only is demand strong, but the high rates have made it a source of revenue during the COVID-19 pandemic," said a worker from the local airline industry.
The increased capacity of air freight may help to relieve pressure on manufacturers in the nation in finding transport units, the article said.