Trade with China passes US$120 billion mark in nine months
Thứ Năm, 05/10/2023, 19:27
Vietnam's trading relationship with China has continued to prosper, going on to exceed the US$120 billion mark during the nine-month period, according to figures given by the Ministry of Industry and Trade.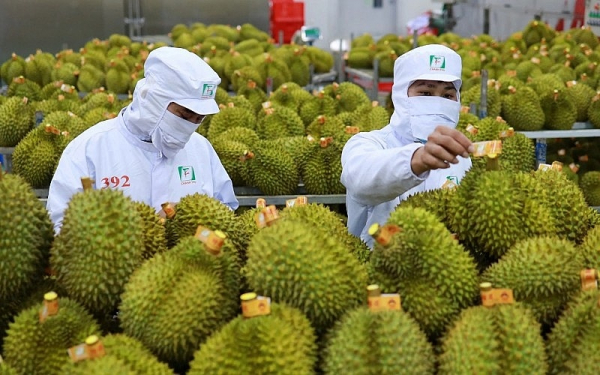 China remained as the country's second largest export market in the reviewed period, with turnover reaching US$42.2 billion, up 2.1% on-year. This represented the only market among major Vietnamese export markets that recorded positive growth, up 2.1%, while other major markets experienced a downward trend.
These positive results can be attributed to drastic solutions relating to customs clearance procedures which has helped to facilitate the export of farm produce to countries sharing a common border.
Most notably, thanks to favourable customs clearance, durian has risen to become the group of export goods recording the largest turnover at Lao Cai International Border Gate Customs Branch.
In a recent meeting held with Chinese Commerce Minister Wang Wentao, Minister of Industry and Trade Nguyen Hong Dien proposed expanding bilateral trade and economic ties with Chinese localities as a means of facilitating the export of Vietnamese goods into the market.
Furthermore, Minister Dien proposed setting up a Vietnam Trade Promotion Office in Haikou this year to create favourable conditions for Vietnamese export goods to transit Chinese railways to third countries.
Local businesses are advised to improve product quality as China currently applies high-quality management standards for imported products while co-operating with large Chinese distribution chains to make further inroads into the market.
Meanwhile, the northern neighbour remains the country's largest import market with an estimated turnover of US$79 billion, down 13.6% on-year.