Vietnam dragon fruits continuously arrive in Australia
12:44 25/01/2022
PSNews - Recently, the Representative Office and the Trade Office of Vietnam in Australia announced that 14 tons of dragon fruits under the Red Dragon brand imported by 4wayfresh Company had landed and brought to the market in two states of Western Australia and South Australia.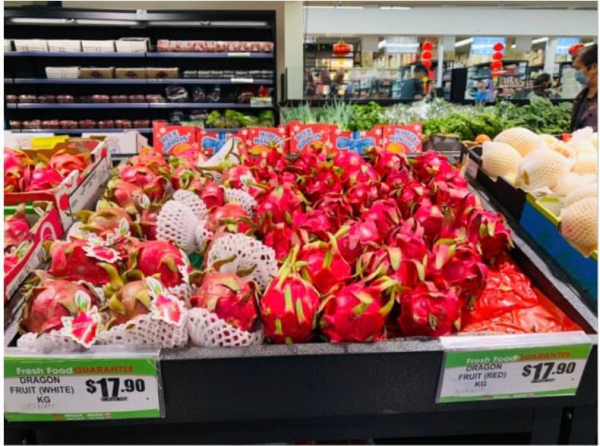 A 14 tonne-batch of dragon fruit imported by 4wayfresh Company has become available in two states of Western Australia and South Australia. 
Meanwhile, HOA Australia Company has just put on the market in Melbourne and other cities 14 tons of dragon fruits, including white flesh and red flesh varieties. The next shipment of 14 tons of dragon fruits of HOA Australia Company will arrive next week, and dragon fruits will continuously land in Australia.
This comes as Vietnamese representative offices and trade office in Australia have been continuously deploying various promotional activities as a means of introducing local dragon fruit to the demanding market, while simultaneously calling on business associations and overseas Vietnamese to actively purchase the fruit.
At present, dragon fruit is being sold in various supermarket chains in Sydney, New South Wales, Melbourne, Perth, and South Australia amid the traditional Vietnamese Lunar New Year drawing near.
During the course of a recent virtual event held with Vietnamese trade office, importers agreed to promote Vietnamese dragon fruit among young people in Australia as a way of fully tapping into the potential market, with the selling price reaching up to VND200,000 per kilo.
According to industry experts, 2021 represented a successful year for Vietnamese agricultural products to Australia, with the export growth of fruit and vegetables achieving more than 28%, despite difficulties in transport between the two countries because of the COVID-19 pandemic.
Through numerous promotional programmes launched at the beginning of the year, the Vietnamese trade office in Australia expressed their confidence that local agricultural products will continue to enjoy impressive growth over the coming year.