Vietnam export promotion forum takes place in HCMC
Thứ Năm, 01/12/2022, 14:35
PSNews - The 2022 Vietnam Export Promotion Forum was organized on November 28 in Ho Chi Minh City (HCMC) by the Ministry of Industry and Trade (MoIT) and the European Chamber of Commerce in Vietnam (EuroCham).
The forum, themed "Green Export Promotion", is an annual event to create an exchange channel between State management agencies and those participating in export promotion affairs, domestic and international experts, and representatives of international trade organisations.
It aims to facilitate, identify opportunities for export activities and improve export goods' competitiveness.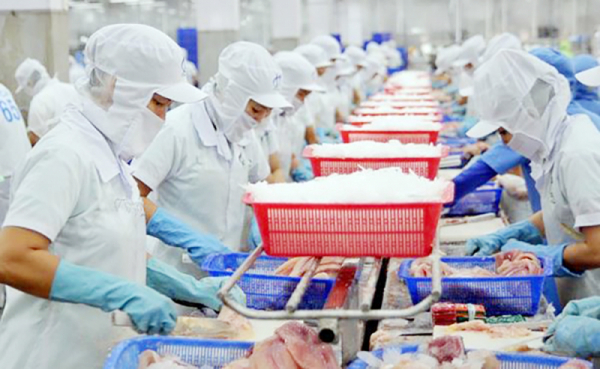 Speaking at the forum, Minister of Industry and Trade Nguyen Hong Dien said green growth and circular economy were becoming global trends as part of efforts to reduce greenhouse gas emissions and achieve carbon neutrality.
Major import markets were imposing high taxes on products with large "carbon footprints" and many developed economies had set stricter environmental regulations for imports, he said.
So exporting countries like Việt Nam needed to change their mindset to pay more attention to the "greenness" of their supply chain and trade, he said.
The minister went on to say the Vietnamese Government has issued policies to encourage the development of the green economy, whilst many businesses have introduced solutions to meet green export standards and at the same time to improve the competitiveness of Vietnamese goods in the international market.
"Our country's foreign trade activities continue to achieve outstanding results, making an important contribution to bringing Việt Nam into the group of 20 leading economies in terms of international trade with total imports and exports in the first 10 months of 2022 reaching nearly US$620 billion and is expected to reach $750 billion for the whole year, up 16 per cent over 2021", he stressed.
Within the event, participants have discussed about the overview of the global green exports, Vietnam's policies for sustainable growth, momentum for transition to a green economy, capacity enhancement for enterprises, and related recommendations for State management agencies and enterprises.
With a commitment to achieve net zero emissions by 2050 at the 26th UN Conference on Climate Change (COP26), Vietnam views energy transition and green growth as a consistent policy and an economic model to pursue in the coming years.