Vietnam racks up trade surplus of US$16.25 billion by mid-August
Thứ Ba, 22/08/2023, 22:27
Vietnam's import-export value from the beginning of the year to August 15 stood at an estimated US$402 billion with a trade surplus of US$16.25 billion, reported the General Department of Vietnam Customs.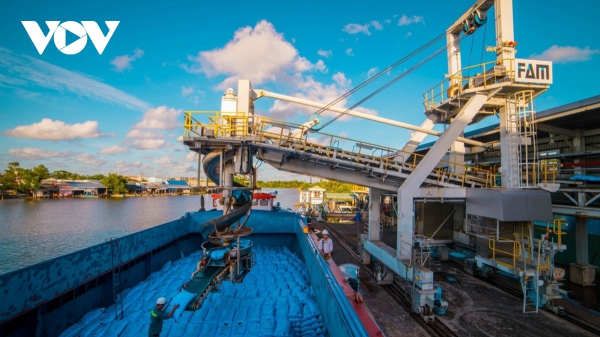 Throughout the reviewed period the country exported roughly US$209.4 billion worth of goods, representing a fall of 10.1% year on year, while imports totaled US$193 billion, an annual decline of 16.7%.
The first half of August saw the country's total import-export turnover reach US$28.6 billion, of which exports grossed US$14.4 billion, down 10.8% against the same period last year.
Four groups of export items brought in over US$1billion each, namely phones and components (US$2.42 billion); computers, electronic products and components (US$2.38 billion); garments and textiles (US$1.55 billion); and machinery and equipment (US$1.53 billion).
Meanwhile, Vietnam purchased commodities worth US$14.2 billion during the first half of August, up 5.3% year on year. Of the import revenue; US$4.1 billion was spent on computers, electronic products and components, whilst US$1.87 billion was on machinery, equipment, tools and spare parts.
The import turnover has kept increasing slightly over recent months, with a specific focus on goods for production and export activities, as well as domestic consumption.
This is a positive sign for domestic production and export turnover is anticipated to grow moving forward, said economists.
The Ministry of Industry and Trade (MoIT) said it is continuing to support businesses to maximise benefits from free trade agreements (FTAs) such as the Comprehensive and Progressive Agreement for Trans-Pacific Partnership (CPTPP), the EU-Vietnam Free Trade Agreement (EVFTA), and the UK-Vietnam Free Trade Agreement (UKVFTA), in an effort to boost exports amid a global market slump.
The MoIT has also coordinated with the Ministry of Agriculture and Rural Development to negotiate with China to open its market to other Vietnamese fruit and vegetable products such as green-skinned pomelos, fresh coconuts, avocados, pineapples, star apples, lemons, and cantaloupe.