Vietnam, RoK bolster cooperation on smart city
Thứ Ba, 29/11/2022, 22:01
The Consulate General of the Republic of Korea (RoK) in Da Nang held a seminar on investment, smart city and digital transformation on November 25.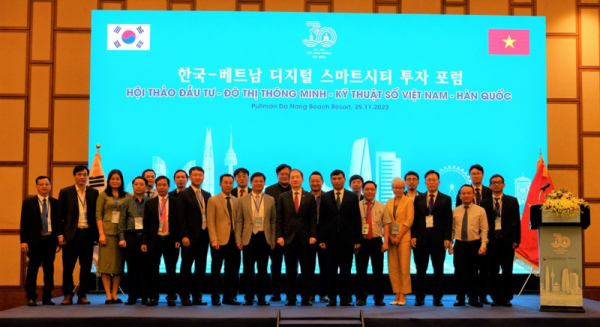 Speaking at the event, RoK Consul General in Da Nang Ahn Min-sik said, what is very important to Vietnam-RoK relations in the next three decades is that the two countries should boost cooperation in digital transformation, smart city and infrastructure.
According to the diplomat, the event was held for both sides to seek cooperation opportunities and enhance mutual understanding in various areas, including smart city and infrastructure.
The RoK Consulate General in Da Nang would strive to promote the cooperation between the RoK and provinces and cities in Central Vietnam, said Ahn Min-sik.
According to Vice Chairman of Da Nang Municipal People's Committee Ho Ky Minh, the city is a favorite destination of tourists from the RoK. As of September 2022, the total number of Korean visitors to Da Nang was estimated at 146,080, accounting for 56.7% of international visitors to the coastal city and 27.3% of the total number of Korean visitors to Vietnam.
The RoK is also the city's leading importer and exporter. In the first 9 months of 2022, Da Nang's export turnover to the RoK stood at 40 million USD. Korean investors also see Da Nang as a safe and reliable investment destination, and the RoK is among top 5 countries with largest registered investment capital in Da Nang.
Kim Oun Tae, Director of the Korea Trade-Investment Promotion Agency in Da Nang, said that Vietnam has gained various outstanding achievements in education, transportation and environment in large cities such as Hanoi, HCM City and Da Nang, since the country launched its strategy on smart city building in 2018.