Vietnamese durian and fruit festival opened in China's Tianjin city
Thứ Năm, 19/01/2023, 23:02
PSNews - Recently, the Chinese city of Tianjin hosted the Vietnam durian and fruit festival in an effort to further enhance bilateral trade cooperation between the two countries.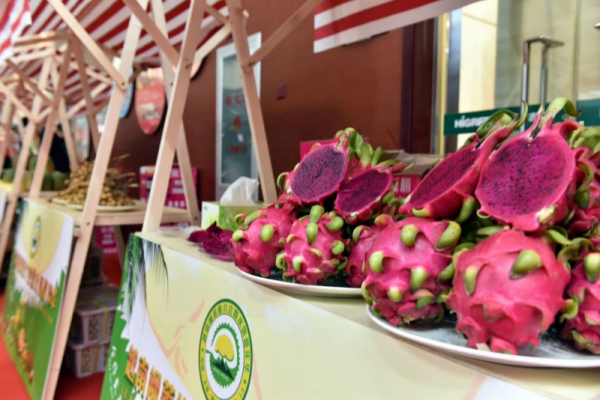 Nine Vietnamese fruits, namely durian, mangosteen, mango, dragon fruit, longan, pineapple, water melon, banana, and jackfruit, are being displayed at a festival which takes place in Tianjin.
Addressing the event, Ambassador Pham Sao Mai stressed that this is one of the specific activities to effectively realise the common perception of high-ranking leaders of the two Parties and the two countries on strengthening bilateral economic and trade cooperation, contributing to promoting the Vietnam - China comprehensive strategic cooperative partnership. 
Statistics of the General Department of Vietnam Customs showed that as of November 2022, trade between Vietnam and China hit 162.2 billion USD, up 8% year-on-year.  Vietnam continues to top the list of the largest trading partners of China in ASEAN, and ranks sixth in the world. 
According to China's General Administration of Customs, the country spent 1.39 billion USD on importing fruits from Vietnam in the first 11 months of 2022, up 44.4% year-on-year.
These results have significantly contributed to boosting the bilateral trade ties, the ambassador said.
Tianjin is a gateway of Northeast China, which has great demand for agro-aquaculture products and tropical fruits – a strength of Vietnam. The embassy will continue to serve as a bridge, thus supporting and promoting exchange and cooperation between Vietnamese localities and Tianjin in the coming time, Mai added.   
For his part, Deputy Mayor of Tianjin Yang Bing said Vietnamese fruits are very popular with Chinese people. He stressed that the municipal administration will create favourable conditions for foreign businesses, including those from Vietnam, to expand their market in China, thus further boosting the bilateral trade ties. 
Additionally, a number of cooperation agreements relating to the consumption of Vietnamese fruit in the Chinese market were also signed at the event.