Vietnamese nation brand value reaches 388 billion USD
Thứ Năm, 21/04/2022, 20:31
PSNews - Speaking at the opening ceremony of the Vietnam National Brand Week 2022 on April 20, Deputy Minister of Industry and Trade Do Thang Hai announced that the nation's brand value last year soared by 21.6% from 2020 to reach US$ 388 billion, thereby being placed at 33rd position in terms of the global rankings.
The Vietnam National Brand Week 2022 kicked off in Hanoi on April 20 with a forum held to call for overseas Vietnamese (OV) entrepreneurs' support for promoting Vietnamese goods and brands.
Addressing at the opening ceremony, Deputy Minister of Industry and Trade Do Thang Hai, who is also Vice Chairman of the Vietnam National Brand Council, cited a Brand Finance report as saying that the country's nation brand value last year grew 21.6 percent from 2020 to 388 billion USD, sustaining the 33rd position in the global rankings.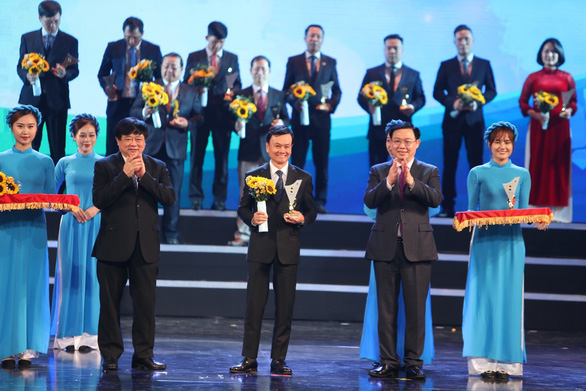 The country is currently one of the 10 economies boasting the largest market openness in the world, with the ratio of import-export to GDP witnessing a constant increase over the years.
This marks a considerable stepping stone for Vietnamese businesses as they strive to improve their competitiveness in terms of the global rankings, Deputy Minister Hai said. Indeed, he went on to acknowledge that through support from the national brand programme, many enterprises have become aware of the importance of brands as a means of increasing their product and business value.
Proof of this can be seen by many Vietnamese brands resonating in both regional and international markets.
According to a report produced by Brand Finance, among the Top 50 most valuable brands in the nation, the number of enterprises with products that achieved National Brand status has grown annually from 28% in 2018 to 34% in 2021.
Most notably, in terms of the Top 10 largest value brands in the country, the number of firms with products of National Brands has increased sharply, from 20% in 2018 to 60% in 2021.
These positive results can be put down to the great contributions made by the 5.3 million Vietnamese people residing abroad, especially entrepreneurs working in over 100 countries and territories to promote the nation's trade, products, and brands.
Deputy Minister of Foreign Affairs Pham Quang Hieu said that the role of overseas businessmen is currently not only limited to financial sources for the country in the form of annual investment and remittances, but also promoting international integration. This can be seen in connection activities between domestic and foreign enterprises between Vietnamese firms and those from many countries in different regions across the globe.
Although overseas Vietnamese's distribution and promotion facilities for local products remain limited, they have widely covered many countries and territories, thereby promoting Vietnamese products to international partners and offering plenty of room for overseas Vietnamese co-operation domestically.
Deputy Minister Hieu praised OV entrepreneurs for allowing both domestic agencies and businesses to gain a deeper insight into laws and consumers' taste in other countries. He added that the Ministry of Foreign Affairs will push ahead with economic diplomacy and seek closer co-ordination with the Ministry of Industry and Trade, localities, and agencies as a means of bolstering the export of Vietnamese products which are more widely known within the global market.