Hanoi city tour on double-decker bus
Thứ Bảy, 23/04/2022, 21:59
A double-decker bus named Hop on-Hop off is taking visitors on a tour around Hanoi every day.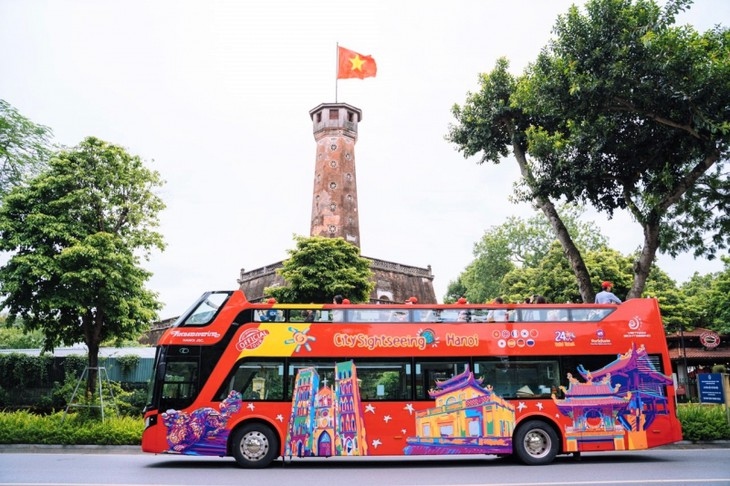 The bus is typically bursting at the seams at weekends and national holidays. 
The pleasant weather in Hanoi during the national holiday in early April made tourists even more excited to hop on the bus and stroll around the city.
Though they have been in Hanoi several times before, this is the first time these holiday makers have toured Hanoi on a double-decker bus, which took them to Hanoi's iconic sites, including the Ho Chi Minh Mausoleum, Thang Long Imperial Citadel, Tran Quoc temple, the Temple of Literature,  St. Joseph's Cathedral, and everything in between. They commented,
- "I'm from Ho Chi Minh City. Hanoi is so charming, classic, and green. A double-decker is not a stranger to me because we have one in Ho Chi Minh city which I often use to explore the city nightlife. Here in Hanoi, I took this bus in the morning, so this was a new experience for me."
- "There is a huge difference between sitting on the bus and on the deck. Looking from above, Hanoi embraces an otherworldly beauty." 
- "I have taken my children out after a long time of being homebound due to the pandemic. This trip will prepare them well for the school reopening. I'm happy as long as they are happy."
- "This is my first time on a double-decker bus. My colleagues and I hang out together to get recharged and start afresh after a long time just staying indoors for our safety. I often ride my vehicle around the city but it's totally something new to see familiar sites from different angles."
Nguyen Dan Le, who is studying in Australia, said she wants Hanoi to have more new tourism service like this Hop on-Hop off bus and that the introduction to each destination should be more informative.
Le shared, "I've been to many European countries and I think that Hanoi should provide more information of each destination that the bus takes us to. We can search on the Internet, but I don't know which piece of information is verified and which service provider is reliable."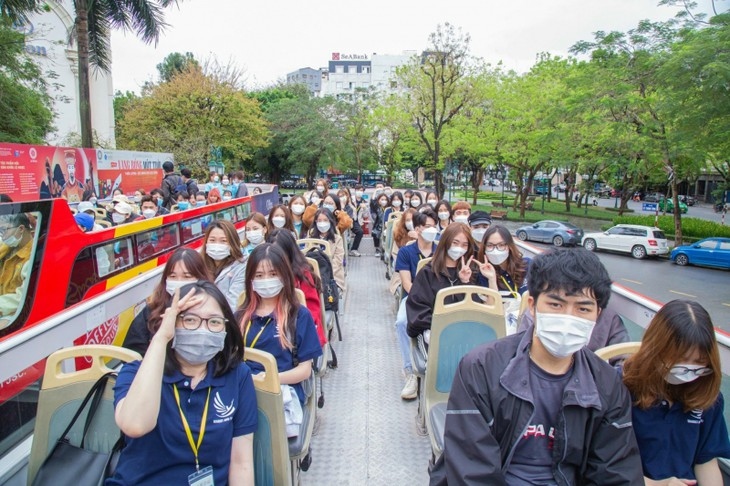 COVID-19 safety measures are strictly observed. Tourist are given details of their itinerary. Staff members are helpful, accompanying their passengers to discover Hanoi as much as they can.
Bus driver Do Viet Xuan said, "I feel so proud. The smiles of my passengers at the end of every trip truly spread the wordless happiness to me. Hanoi has a lot more of hidden treasures for your discovery." 
A double-decker bus trip around Hanoi – a thousand-year-old city – gives visitors a closer insight into its rich history, vibrant culture, and hospitable people.
Nguyen Anh Dao, Sales Manager at Vietnam Sightseeing JSC, which has operated the double-decker bus service for the last two years in Hanoi and Ho Chi Minh City, said, "Around the time of the Ancestor Day holiday, the pedestrian street in Hanoi resumed operation and Vietnam has fully reopened its border to foreign tourists, so we are receiving bookings, many from visitors who are returnees to Hanoi after a two-year pandemic suspension." 
From a brilliant red sunset at West lake to the benevolent smile of an old tea seller on the sidewalk, there are more ordinary yet unforgettable things about Hanoi you can discover on this double-decker bus.