Japanese dolls displayed at Bac Giang exhibition
Thứ Sáu, 11/08/2023, 21:56
Japanese dolls are being exhibited in the northern province of Bac Giang as part of activities to mark the 50th anniversary of the establishment of diplomatic relations between Vietnam and Japan (September 21, 1973).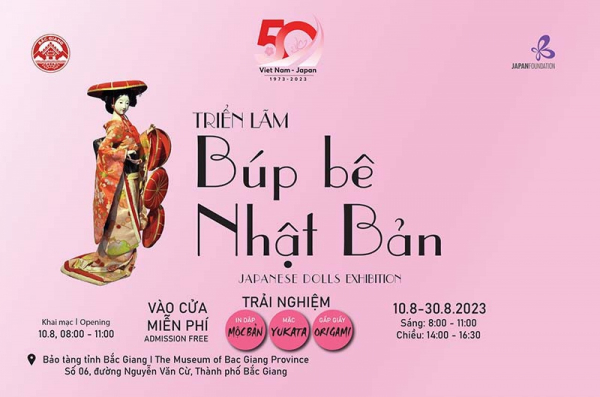 The exhibition opened on August 10 with 70 Japanese dolls on display and divided into two spaces.
One space enables visitors to explore gorgeous dolls depicting various characters, from children to grown-ups, in different settings from daily life to theatre.
Meanwhile, the unique wooden doll Kokeshi provided by Tsugaru Kokeshi Museum is being showcased at another space. Kokeshi originated from the Tohoku (Northeast) region of Japan in the 19th century and is usually sold as souvenirs for children at the hot spring towns in the region.
Each town has its own Kokeshi type characterised by its unique pattern and technique.
On display are 12 types of Kokeshi which come in various sizes, accompanied by modern Kokeshi works, five of which draw inspiration from Vietnamese culture.
Visitors will also have the chance to try on traditional Yukata clothes, the art of paper folding Origami, join woodblock printing, and take home cute little paper dolls.
The exhibition, jointly organised by the Bac Giang Department of Culture, Sports and Tourism, and the Japan Foundation Center for Cultural Exchange in Vietnam, is scheduled to run until August 30.