"Vietnam cultural heritage space" exhibition opens
21:59 23/11/2021
PSNews - On the occasion of the Vietnam Cultural Heritage Day (November 23), the Ministry of Culture, Sports and Tourism in collaboration with cultural management agencies of many provinces and cities kicked of an exhibition themed "Vietnam cultural heritage space" in both in-person and virtual formats.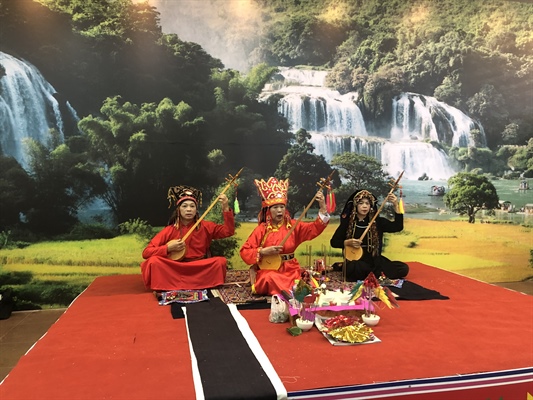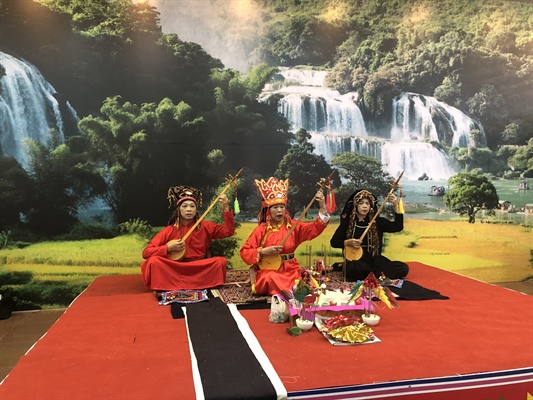 This exhibition is considered a cultural event with the aim of promoting values of cultural and natural heritage as well as unique landscapes of Vietnam, especially the cultural heritages recognized by UNESCO such as Culture Space of Gong in Tay Nguyen, Bac Ninh love duet singing, and "Don ca tai tu" music and songs of southern Vietnam. 
In particular, the exhibition highlights the Mother Goddess worshipping ritual of Vietnamese people. The exhibition also helps raise public awareness and responsibility in preserving and developing the values.
Alongside, cultural heritages in different localities, along with their typical traditional handicraft products, cuisines and specialties are also introduced. In addition to indoor section, the exhibition also has outdoor areas featuring products of traditional craft villages of the country.
It will last until November 27 at the Vietnam Exhibition Centre for Culture and Arts in Hanoi, while the online version is available to the end of December on websites of the centre at http://trienlamvhnt.vn and of the Department of Cultural Heritage at http://dsvh.gov.vn.