Vietnamese monochord performance shined at Jalsat Night
21:35 20/10/2021
PSNews - Recenly, Vietnamese meritorious artist Le Giang on performed the Dan bau (Monochord), one of Vietnam's major traditional musical instruments, along with artists from a Middle East orchestra during Jalsat Nights at Expo 2020 Dubai in the United Arab Emirates (UAE).
Jalsat Nights is a music series held monthly from October 2021 to March 2022 within the framework of Expo 2020 Dubai. It received special attention from the media and people of the Gulf countries.
With the aim of bringing viewers not only UAE;s musical heritage but also a unique experience by introducing traditional instruments from several countries around the world, the organizing boad invited Vietnamese artist Le Giang to perform dan bau.  According to the organizing boad, dan bau of Vietnam was the only musical instrument that was invited to be present at Jalsat Nights.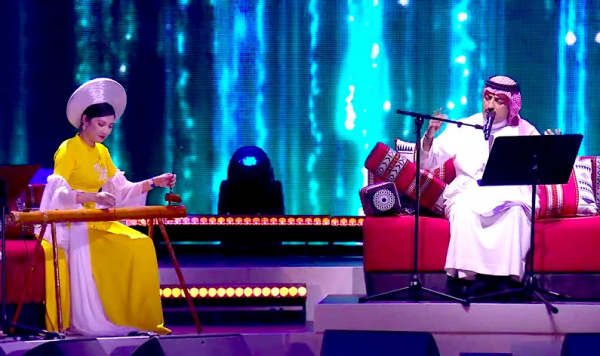 In an open air space, Giang in her fabulous long dress played a melody together with Saudi Arabian singer Aseel Abu Baker and other artists, impressing audiences in the UAE.
Le Giang is currently a teacher at the Vietnam National Academy of Music and has spent over 30 years on playing the monochord. She participated in the World Expo 2012 Yeosu in the Republic of Korea, the World Expo Milan 2015, and the Astana Kazakhstan World Expo 2017.
As reported, Vietnam pavilion opened for visitors as part of Expo 2020 Dubai, showcasing local culture and progress made by the country in the field of science and technology towards sustainability and friendliness to the environment to international friends.
Expo 2020 Dubai was originally scheduled to open on October 20, 2020, and end on April 10. However, due to the impact of the COVID-19 pandemic, the expo was postponed to October and will end in March, 2022.