German media outlet highlights Vietnam's COVID-19 containment efforts
16:10 30/07/2021
German newspaper Jungewelt (Young World) has recently published an article about Hanoi launching a mass vaccination rollout for citizens in an effort to contain the COVID-19 pandemic as swiftly as possible.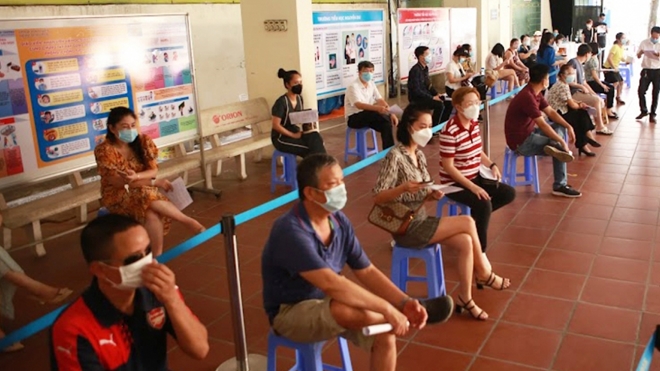 Local people in many districts across Hanoi are waiting in line to receive the first COVID-19 vaccine does as part of the largest- ever vaccination campaign in the capital.
In the article author Stefan Kühner stated that in Hoan Kiem district, which previously attracted a high number of tourists before the pandemic, approximately 4,000 doses of the COVID-19 vaccine are being given to citizens on a daily basis at seven inoculation sites. The first priority groups being vaccinated include people working in agencies and offices who are at high risk of infection, along with employees based in industrial zones.
Roughly 5.1 million people aged between 18 and 65 are set to be vaccinated against COVID-19 during the country's biggest-ever vaccination campaign running from July to April next year. Currently, the nation is mainly using vaccines from AstraZeneca, Moderna, and Sputnik V, the article said.
According to Kühner, the nation had successfully brought the pandemic under control for a long period of time, with positive COVID-19 cases totaling around just 3,000. However, since June the number of new infections has increased rapidly due to the emergence of the Delta variant, subsequently surpassing the 100,000 mark.
Amid this threat the administration of Hanoi has since enforced a range of drastic measures aimed at preventing the rapid spread of the virus.
People returning to the capital from COVID-19 hotspots must undergo a 14-day isolation period and take at least three PCR tests for COVID-19. If all three times come back negative, then people will continue with their seven-day home quarantine and will take a PCR test again on the last day of their isolation period.
Hanoi has also set up a number of checkpoints on streets running into the city, with police, the military, and medical forces on duty regularly to control vehicles entering and leaving the capital.
The author noted that southern provinces are currently being heavily affected by the pandemic, especially Ho Chi Minh City. According to Kühner, the most important issue for the mass vaccination programme is how to secure sufficient vaccine supplies for the local population.
However, negotiating vaccine supply contracts with manufacturers leads to plenty of difficulties, while the COVAX dose-sharing mechanism of the World Health Organization (WHO) has yet to meet the needs of most countries.