Heat wave strikes southern Vietnam causing hazardous UV levels
19:31 18/03/2021
Temperatures in Ho Chi Minh City and neighbouring areas reached between 35 and 37 degrees Celsius on March 18, with UV levels rising the a hazardous figure of 11+, according to meteorologists.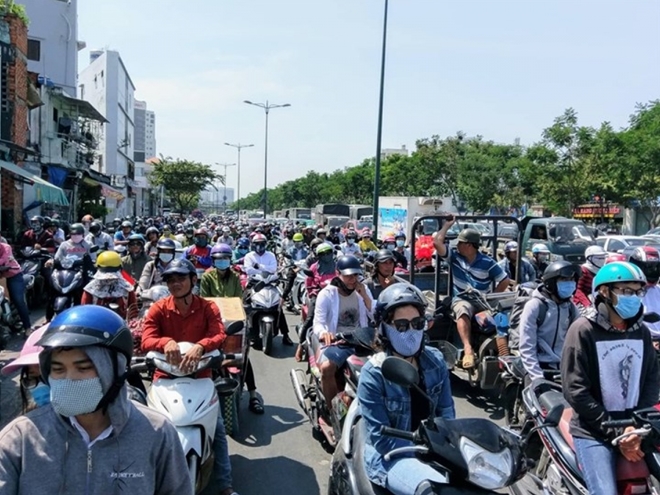 People in Ho Chi Minh City suffer as hot weather intensifies (Photo: Lao Dong)
At present several cities and provinces in the south are suffering from strong heat, with Dong Nai, Binh Phuoc, and Binh Duong measuring 37 degrees Celsius during the daytime.
The UV Index levels of between 10 and 11 were recorded in HCM City and its boroughs. The southern region has been exposed to high UV radiation over the past two weeks, said meteorologists.
The World Health Organization (WHO) states that the UV Index is an international standard measurement recording the strength of ultraviolet radiation from the sun. Between zero and three is considered to be low, whilst above 11 is deemed extreme with radiation potentially burning the skin and damaging eyes within 20 to 30 minutes.
Local dermatologists have therefore advised people to avoid direct exposure to sunlight between the hours of 10 a.m. and 2 p.m., urging those who venture out to wear sunscreen, sunglasses, and hats.
Environment monitor AirVisual has also reported that the air quality index (AQI) in HCM City reached the average level of 63.