Ethnic minority people in Central Highlands province get COVID-19 shots
19:35 27/09/2021
Given the complicated situation of the COVID-19 pandemic, the authorities in the Central Highlands province of Dak Lak launched a mass vaccination drive to protect the local people with a majority of ethnic minority people against the disease.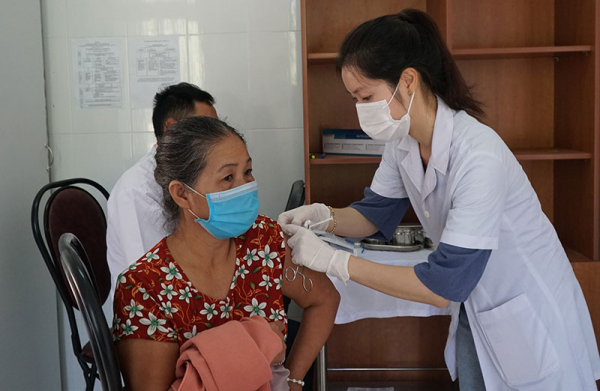 A few days ago, local people showed up early at a vaccination venue in Cu Ebur commune, Buon Ma Thuot city, Dak Lak. Most of them felt a bit worried but all were thankful for the thoughtfulness and care of the Party and State so they could receive COVID-19 vaccine jabs.
A Mi Phuong, an aged ethnic person from Dung village, Cu Ebur commune, who is also a member of a local anti-COVID community team, expressed his delight after getting the first vaccine shot. He hoped that all people would be given the vaccine soon so that they could return to normal life.
HTrinh Nie, 30, resident of Jung village, Ea Ktur commune, Cu Kuin district, said, she had been injected twice before as she worked as a health worker on the frontline of the fight against the pandemic. She believed that the more local people would be vaccinated, the earlier the pandemic would be wiped out.
Doctor Tran Thuan, Director of the Health Center of Krong Buk district, said many ethnic minority people had been vaccinated over the past time.
In Kwang A village, Cu Bao commune, Buon Ho town, as some COVID-19 cases were detected, members of the anti-COVID team became very busy. Y Khue Ayun, head of the village, and other members of the anti-COVID team delivered rice and other goods donated by people across the province to all villagers. They also took care of the houses, poultry and livestock for those, who had been hospitalized. Their support and assistance had relieved hospitalized patients, contributing to the local effort for prevention and combat of the pandemic.
Y Khue Ayun said he had been worried about side effects of the vaccine, but after listening to the doctor's explanation, he and others felt comfortable and got vaccinated. He also thanked the Party and State for offering vaccine jabs to ethnic minority people, protecting them from the pandemic.
Trinh Quang Tri, Director of the Center for Disease Prevention and Combat (CDC) of Dak Lak, said the province has carried out 7 vaccination drives with over 166,000 local people injected. The health sector of the province is trying their best to inject some 2.3 million jabs to local people as assigned by the Health Ministry.