H'Hen Nie joins youth campaign to change gender stereotypes
09:56 15/06/2022
PSNews - A ceremony was held on June 12 in Hanoi to conclude the first two phases of the campaign and the online competition titled "Thanh niên chuẩn - Nói không với định kiến giới" (Standard youth - Say no to gender stereotypes).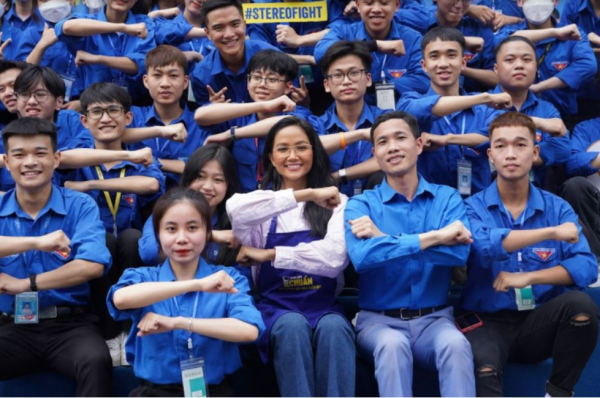 The online competition, co-hosted by the Central Committee of the Ho Chi Minh Communist Youth Union and Plan International Vietnam, took place from May 20 to June 12 with 4 live broadcasts on Facebook pages "Thanh niên chuẩn" and "Ban Tuyên giáo TW Đoàn".
The competition has received a very strong response from students and youth union members in Vietnam and abroad with more than 112,000 reaches and nearly 53,000 comments on Facebook. 
At the event, Mr.Nguyen Tuong Lam, Secretary of the Central Committee of the Ho Chi Minh Communist Youth Union urged all youth union members to realize gender equality through practical actions, contributing to changing gender prejudiced perceptions and behaviors and narrowing the gender gap, thereby building a progressive, equal and sustainable society.
Plan International Vietnam's Country Director, Ms. Sharon Kane, shared: "The campaign aims towards creating a diverse network of local voices and influencers to undertake impactful campaigns on positively shifting gender norms. I am delighted to learn that this competition has engaged over 100,000 participants in just over two weeks. It highlights that there is a growing group of knowledgeable people who are 'Thanh niên chuẩn' - who say no to gender norms".
Accompanying the campaign were Miss Universe Vietnam 2017 H'Hen Nie. "I believe that thoughts lead on to action. And if we have confidence in our actions, then the judgment of others will not matter anymore. There are actions and thoughts that will make a big change", she said.
Within the event, the organizers also kicked off the third phase and forth phase of the campaign named "Career defined by choice, not by gender" and "Women can also be successful leaders".