Hanoi has potential risk of COVID-19 infection clusters in community
18:12 26/08/2021
The capital of Hanoi is at high risk of recording an increase in the number COVID-19 cases within the community as it has many densely populated alleys and streets, as well as crowded residential areas, according to experts.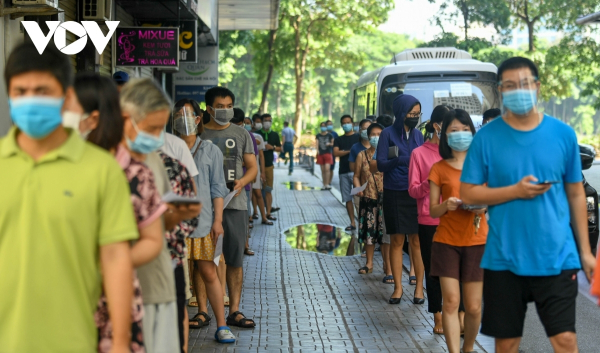 Khong Minh Tuan, deputy director of the Hanoi Center for Disease Control (CDC), said local authorities are devising and implementing plans in order to halt the spread of the pandemic in high-risk areas.
During the fourth wave of COVID-19 infections starting in late April 2021, Hanoi has so far recorded 2,770 cases, including 1,425 cases in the community.
Dong Da is among districts that have seen the highest number of locally acquired infections, with many having symptoms such as a cough and fever.
At present, it is thought that F0 cases still haven't been separated from the local community, thereby increasing a potential risk of infection clusters, said Tuan.
According to the Hanoi CDC official, Thanh Xuan Trung ward in Thanh Xuan district is currently the most high-risk area, as it recorded 73 infections between August 23 – 25 through test screening in the community.
This cluster is similar to those in Van Chuong and Van Mieu wards of Dong Da district, and more infection cases are expected to be detected over coming days, Tuan said, warning local people to complete healthcare declarations to detect cases early.
Hanoi is ramping up testing, especially in high risk areas, including old apartment buildings and small, densely populated alleys.
Meanwhile, the pandemic in suburban areas has now basically been controlled with high-risk areas cordoned off and residents there tested.
The city is striving to expand the 'green' zones (safety zones) in an effort to keep the virus at bay in the community.