National traffic safety contest 2023 closed successfully
Thứ Ba, 17/10/2023, 10:30
PSNews - An initiative to renovate lakes as part of efforts to ease traffic congestion has won the first prize at the 2023 National Traffic Safety Contest.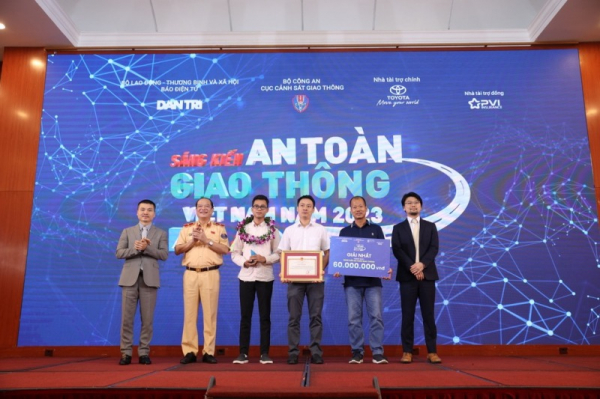 The prize was awarded to the HAC team from the Construction and Investment Management Board under the Ministry of Culture, Sports and Tourism at a ceremony held in mid-October in Hanoi.
The contest, co-organised by the Traffic Police Department under the Ministry of Public Security, Dantri/Dtinews Newspaper and Toyota Vietnam Company, attracted over 1,200 entries within 4 months. 
The 2023 contest had two categories that focused on general traffic safety and the use of technology in traffic safety. It addressed traffic congestion, drink-driving, and general traffic order and safety awareness.
Doan Tran Duc Hai, HAC founder shared that many detention basins and lakes in Vietnam face lots of problems including pollution, traffic congestion and a lack of parking and public toilets.
"With our initiative, we want to turn those detention basins and lakes into multi-purpose lakes with seven target solutions, including creating roads and parking areas for curbing traffic congestion; developing tours to surrounding communities; building standard water-treatment facilities and public toilets; and bringing financial benefits to operators," Hai said.
The first prize winner was awarded VND60 million.
The Vietnam Traffic Safety Initiative 2023 program was held from April to September to raise people's awareness about traffic safety and general traffic-related issues.
The initiative is also intended to connect state management agencies with the public. The intention is to help the public be more aware of traffic laws and co-operate with the authorities to improve traffic order and safety.