PM launches learning society building movement
Thứ Bảy, 10/06/2023, 22:54
Prime Minister Pham Minh Chinh on June 10 launched an emulation movement in building a learning society and strengthening life-long learning in the 2021-2030 period.
Addressing the event, which was held on the occasion of the 75th anniversary of President Ho Chi Minh's call for patriotic emulation, PM Chinh, who is also Chairman of the Central Council for Emulation and Rewards, highlighted the studious tradition of the nation.

Recalling President Ho Chi Minh's saying that "learning never has its end", he underlined that education and training has been defined as a key national policy.

Learning encouragement and building a learning society have received great attention from the whole community and become a widespread movement across the country, he said.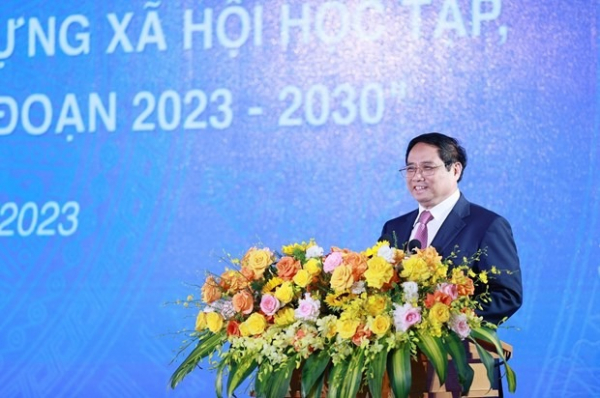 Highlighting the expansion of the country's education movement, especially in far-flung, border, island and ethnic minority-inhabited areas, as well as the creation of learning opportunities for all people at all ages, PM Chinh underlined the important role of the Party Committees and administrations at all levels, as well as organisations, especially the Associations of Learning Encouragement.

He stressed that in a fast changing world where globalisation and international integration are becoming popular, along with the Fourth Industrial Revolution, learning and upgrading knowledge and skills is a must for everyone.

Life-long learning has become a global trend, he said, noting that so far, more than 1,000 cities around the world have joined the "learning cities" initiative.

In order to make stronger progress in building a learning society, the Government leader asked Party Committees and the administration at all levels as well as ministries, socio-political organisations, associations and the whole community to continue to effectively implement the Party and State's policies regarding education, training and learning and talent encouragement.

It is necessary to build an open, diverse and modern education system with equality and integration, meeting the new requirements in the new period, he said.

He ordered the revision and completion of mechanisms and policies on learning society building, along with stronger support to community learning facilities and assistance to disadvantaged people to access learning opportunities.

Along with strengthening the mobilisation of social resources for education promotion, the PM also underlined the need to optimise the efficiency of funds for learning activities.

The PM called for the engagement of the Vietnam Fatherland Front Central Committee, socio-political organisations, association, collectives and individuals inside and outside the country to actively respond to the movement to encourage studying and talents and build a learning society, contributing to turning the dream for a prosperous and happy nation into reality.