PM orders finalising second vaccination shot for people aged 18 and older
Thứ Năm, 02/12/2021, 23:29
Prime Minister Pham Minh Chinh has underlined the necessity of completing the second round of vaccinations for those aged 18 and over, with a focus on injecting children aged 12 and older so that they can return to school as normal.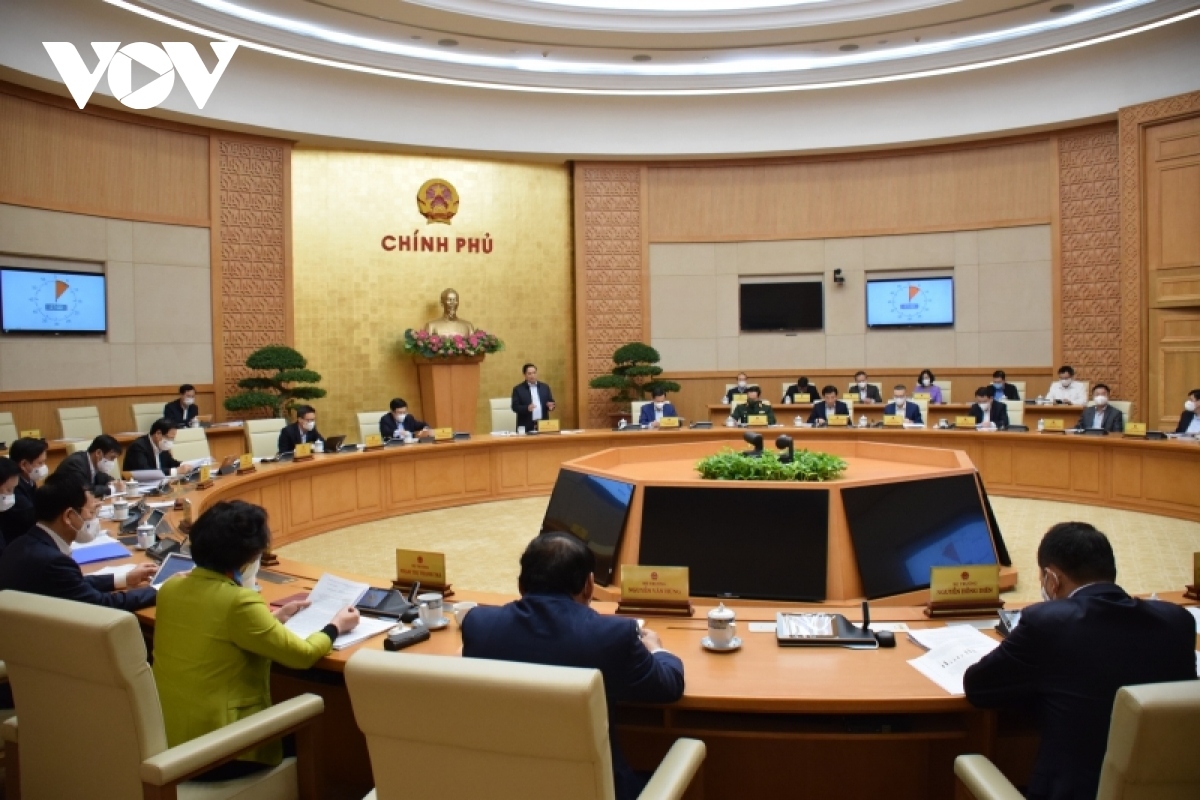 During a regular cabinet meeting held on December 2, PM Chinh also proposed making a specific plan aimed at conducting a third round of injections in the future. He also stated that it remains imperative to review the preservation, inspection, and problems regarding incidents which happen following inoculation.
The PM therefore asked ministries, agencies, and localities to thoroughly grasp the situation relating to the pandemic, continue raising public awareness of pandemic prevention and control measures, whilst focusing on public investment capital disbursement. This should be done whilst fine-tuning mechanisms to submit to the National Assembly (NA)'s upcoming meeting, as well as continuing with administrative reforms and social welfare guarantees.

With regard to the socio-economic development plan for 2022, he requested that its goals must be achievable and ensure harmony between economic development, local culture, the environment, as well as among industry, agriculture, and services. All of this should fall in line with the Party Central Committee and NA resolutions, including three strategic breakthroughs.

With the pandemic being brought under control nationwide and the national economy in the process of recovering, various departments and agencies have been assigned to follow dispatches relating to the response and recovery from serious rains and floods.

Participants therefore affirmed the Government and PM's timely and sound directions to changing the nation's overall anti-pandemic strategy. They said it is necessary to continue with synchronous, timely, and effective tasks and measures set out in the Government's Resolution dated August 21, as we move into December and into 2022.

According to the Ministry of Planning and Investment, the country's socio-economy position has shown positive signals in November, boasting macro-economic stability and low inflation.
With regard to specific tasks, the Government chief has asked relevant ministries and agencies to urgently complete a master strategy relating to COVID-19 prevention and control, along with a scheme for socio-economic recovery and development for submission to the NA at the year-end session.
With regard to the socio-economic development plan ahead in 2022, PM Chinh emphasised that all set targets must be close to reality and ensure harmony between economic development, culture, the environment, along with between industry, agriculture, and services.