Popular places to view lunar New Year's Eve fireworks display in Hanoi
Thứ Tư, 18/01/2023, 23:56
With the Lunar New Year (Tet) festival drawing near, several fireworks viewing spots in the capital have begun to sell tickets to both local residents and tourists, with the price starting at more than VND2 million per person, including refreshments.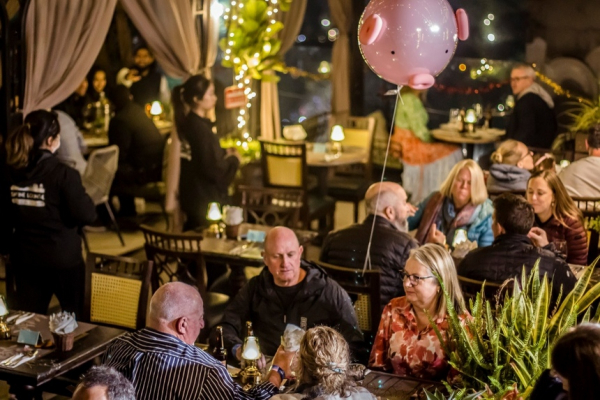 Hoan Kiem lake is considered to be the most popular place to watch a high-altitude fireworks display. At present, the majority of restaurants and cafes with rooftops and balconies have opened reservations to watch the fireworks display at midnight on January 21.
The price of a seat this year ranges between VND500,000 and VND2.5 million, depending on the location and restaurant, excluding 10% value added tax (VAT).
The price is between VND200,000 and VND700,000 higher than 2022's, with each seat accompanied with a snack or drink.
At Cau Go Hot Pot restaurant located at Ham Ca Map building which faces directly towards Hoan Kiem lake and Dong Kinh Nghia Thuc square, seats have been fully booked since January 16, the 25th day of the 12th lunar month.
The restaurant manager states that a ticket to watch the outdoor fireworks with the best view stands at about VND2.5 million per person. With a reservation, revelers are given a set meal and a glass of premium wine.
Most notably, other high-rise restaurants, bars, and cafes around Hoan Kiem lake also offer the same price, with seats at roof-top bars costing between VND800,000 and VND1.8 million per person.
Some bars even plan to organise cocktail parties on the lunar New Year's Eve as a way of attracting tourists.
According to an owner of a restaurant, revelers making use of the service are mainly young people and foreigners who are excited about the fireworks display to ring in the New Year.
Hanoi will have a total of 30 firework sites this year, with major high-altitude fireworks combined with low-range fireworks located in the districts of Hoan Kiem, Tay Ho, Hai Ba Trung, and Ha Dong, as well as Son Tay ancient citadel.