Special celebration by Vietnamese female police officer and her colleagues in Africa
Thứ Tư, 27/09/2023, 09:47
Lieutenant Colonel Luong Thi Tra Vinh, the first Vietnamese female police officer participating in UN peacekeeping operations, shared her experience of her recent special working trip to Ethiopia.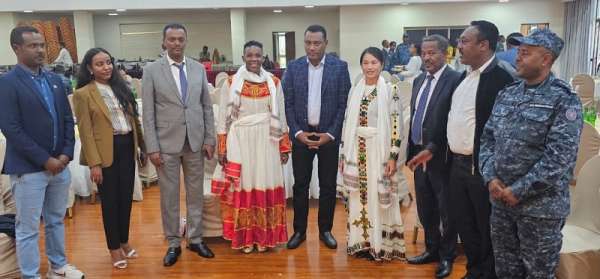 Vinh said she was appointed as Captain of the Selection Assistance and Assessment Team (SAAT) in the Assessment for Mission Service of Individual Police Officers (AMS) taking place in Ethiopia. It was a mandatory exam for police officers before joining peace missions or special political missions of the United Nations.
"When I arrived in Ethiopia, I immediately felt that this East African country is truly beautiful", said Vinh.
Vinh was also impressed by the hospitability of the locals as well as their knowledge and love for Vietnam. "Some elderly people in Ethiopia said that they had learnt about Vietnam and of its national resistance wars since they were in school. Many people can even sing Vietnamese songs about the country and President Ho Chi Minh", Vinh recalled.
Vinh also had chance to wear the traditional costume of the Ethiopian people on the closing day of the AMS as she had been given it by Demelash Gebre-Michael, Commander-in-Chief of the Ethiopian Federal Police.
Vinh also received a special gift on the shooting range on Vietnam's National Day. Vinh and her colleagues were chatting when a liaison officer told everyone, that day was Vietnam's National Day. "Everyone congratulated me on the Vietnamese National Day", Vinh said. At that time, Vinh remembered that she had the national flag in her luggage.
As soon as she got Vietnam's national color, her colleagues joyfully joined her in group photo. International friends closed the celebration by speaking loudly, "We love Vietnam." I was so moved when everyone expressed their love for our country," Vinh recalled.
In the spirit of solidarity and friendship, Vinh also requested her colleagues to chant "We love Ethiopia".