Vietnam successfully produces vaccine against African swine fever
10:20 12/06/2022
 The Ministry of Agriculture and Rural Development officially announced that Vietnam has become the first country to develop a commercial vaccine against African swine fever that meets all requirements. 
Vietnam has authorised the commercial circulation of NAVET-ASFVAC vaccine, helping the country to become the first in the world to successfully research and produce a vaccine against African swine fever, and licence its commercial circulation.
Accordingly, the vaccine has been in development since November 2019 in partnership with United States experts, with five clinical trials held.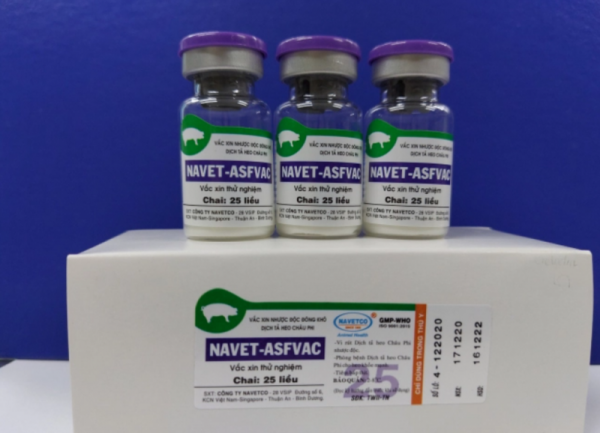 Its safety and efficacy was confirmed by the Agricultural Research Service under the US Department of Agriculture, according to Deputy Minister of Agriculture and Rural Development Phung Duc Tien.
The trade name of the published vaccine is NAVET-ASFVAC, a product of Navetco National Veterinary Joint Stock Company. The vaccine was developed from a genetically modified prior strain of the virus by deleting a previously uncharacterised gene, I177L.
"With immunity lasting six months, the vaccine will be a shield for hog-raising industry and pig production globally. This success opens great expectations and the room to export African swine fever vaccine produced in Vietnam is huge," Mr Tien said.
This is a breakthrough event for Vietnam's husbandry sector as there is no effective commercial vaccines against the disease yet.
"The vaccine research and production results, after being thoroughly evaluated by independent scientists, have been accepted and published in the world and Việt Nam's prestigious scientific journals," Nguyen Van Long, Acting Director of the ministry's Department of Animal Health, affirmed.
African swine fever, one of the most devastating livestock diseases, was first detected in Vietnam in February 2019 and forced the country to cull around 20% of its hog herd last year. It originated in Africa before spreading to Europe and Asia and has killed hundreds of millions of pigs globally. African swine fever is harmless to humans.