Vietnamese rescue workers in Turkey receive international acclaim
Thứ Tư, 22/02/2023, 20:56
By joining in rescue missions in earthquake-hit Turkey, Vietnam has shown itself as both a responsible member of the international community and also a member capable of fulfilling its responsibility, according to Vietnamese Ambassador to Turkey Do Son Hai.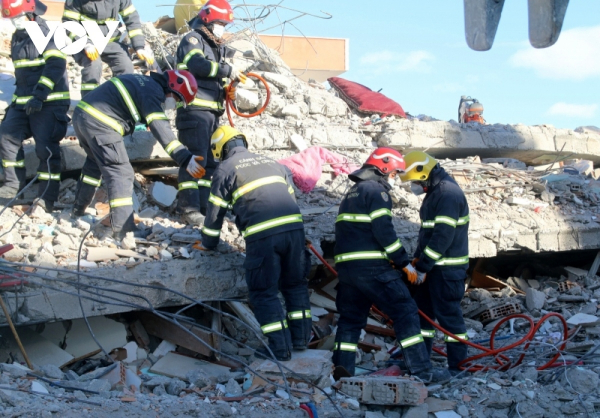 In an interview granted to Vietnam News Agency, Ambassador Hai said the two rescue teams sent by the Ministry of Public Security and the Ministry of National Defence have received much appreciation from local Turkish authorities and people, as well as from other international rescue teams.
Nearly 90 countries have sent rescue teams to the Middle Eastern country after the deadly earthquake and subsequent tremors occurred, and through cooperation and support between the parties, international rescue teams highly appreciated the capacity of Vietnamese rescue workers, he said.
The two Vietnamese rescue teams joined in rescue efforts in Adiyaman and Hatay provinces, two localities among the hardest hit areas.
This presented an extremely challenging environment for the team to work in, with their success being more significant due to the testing conditions, said the Ambassador.
According to the diplomat, this marks the first time that the country has sent rescue teams to undertake humanitarian missions in a location so far away, thereby concretising the policies and guidelines of the Party and State that Vietnam is a responsible member of the wider international community.
The accomplishment of their mission clearly shows that Vietnam can fulfill responsibilities of the international community through its own capacity, even though the teams operated in a completely new area and nobody knew if their mission was a success, said Ambassador Hai. 
The 7.8 magnitude earthquake and subsequent tremors rocked Turkey and Syria on February 6, killing more than 48,000 people, mostly Turkish people.
The Ministry of Public Security decided to dispatch a 24-member contingent of police officers to Turkey to assist with rescue efforts. The contingent of police officers accomplished their mission and returned to Hanoi on February 19.
The Ministry of National Defence later also decided to send 76 soldiers and officers to support recue work in Turkey, with the rescue force scheduled to return to Hanoi on February 23.