Vietnamese NA makes an imprint while successfully fulfilling its AIPA Chairmanship Year
07:19 08/01/2021
PSNews - Speaking at a conference to review Vietnam's ASEAN Inter-Parliamentary Assembly (AIPA) Chairmanship Year held at the end of December 2020, Vietnamese National Assembly (NA) Chairwoman Nguyen Thi Kim Ngan underlined that, over the past 25 years, the Vietnamese NA has made an important contribution to consolidating and improving the AIPA's organizational apparatus.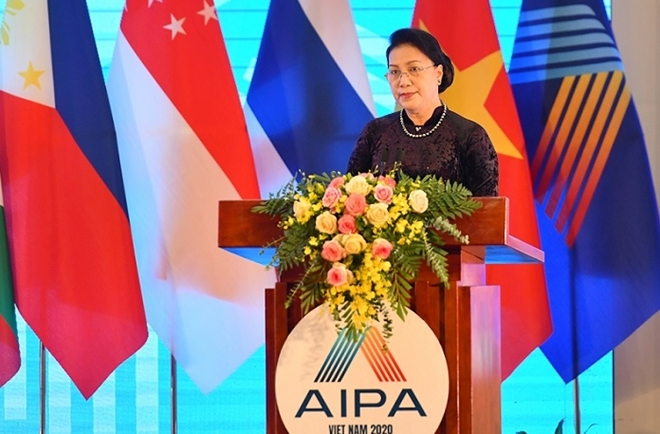 Vietnamese National Assembly Chairwoman Nguyen Thi Kim Ngan.

The success of the ASEAN Inter-Parliamentary Assembly (AIPA) Chairmanship in 2020 in spite of negative impacts of the COVID-19 pandemic and record floods and storms reflected the bravery and responsibility of the Vietnamese NA, contributing to the development of AIPA.
From the beginning of this year when COVID-19 broke out in the region and world, Vietnam quickly consulted member states about the method of the organization of AIPA events and readjusted the plans for its AIPA Chairmanship Year.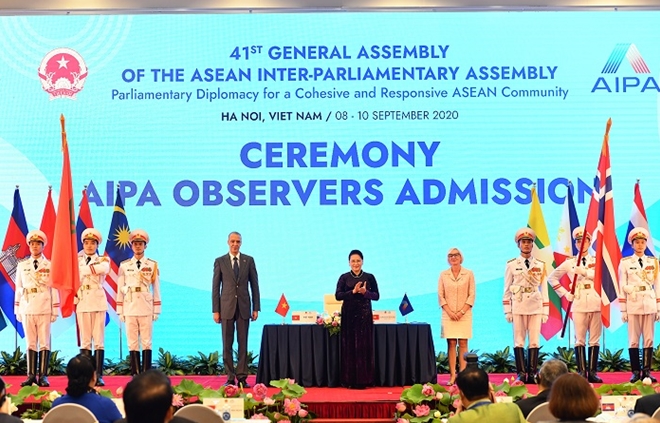 The Stortinget (supreme legislature of Norway) and the Parliament of Morocco are conferred a formal status of Observers of AIPA. (Photo: NDO/Duy Linh)

The 41st AIPA General Assembly was successfully held online for the first time in the history of the AIPA with the theme "Parliamentary Diplomacy for a Cohesive and Responsive ASEAN Community"
Under the leadership of Vietnam, the AIPA-41 has renovated the process of adopting documents at online meetings. Moreover, the contents of the approved resolutions are comprehensive and inclusive, meeting the interests of AIPA and its members.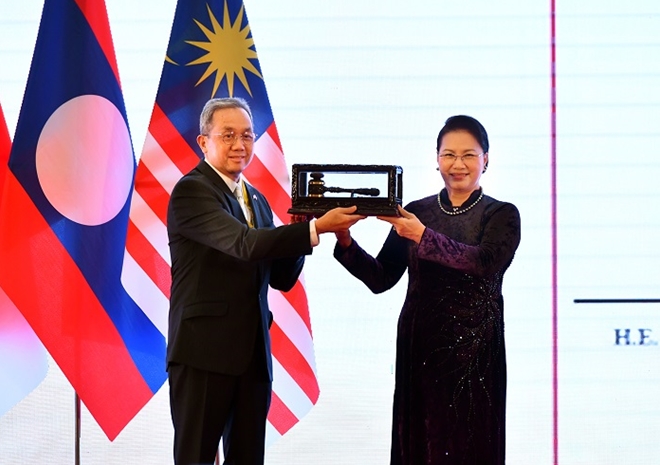 NA Chairwoman Nguyen Thi Kim Ngan, Chair of AIPA 41, transfers the AIPA chairmanship to Brunei. (Photo: NDO/Duy Linh)

Notably, during this General Assembly, Vietnam initiated the organisation of the "AIPA Young Parliamentarians Meeting" and a conference on "Parliamentary Partnership on Educational and Cultural Cooperation for Sustainable Development", which were supported by all member parliaments. The AIPA-41 also served an opportunity for young Vietnamese National Assembly deputies to actively participate in dealing with ASEAN's common issues.
President of the National Assembly of Thailand Chuan Leekpai, Norwegian National Assembly Chairwoman Tone Wilhelmsen Troen and Speaker of Moroccan House of Representatives Habib El Malki sent congratulation letters to Vietnamese NA Chairwoman Nguyen Thi Kim Ngan. They extended their thanks to the efforts of the National Assembly of Vietnam for supporting all AIPA members to attend this historic General Assembly.
The success of Vietnam's AIPA Chairmanship 2020 and AIPA-41 has left deep impression on AIPA member parliaments as well as observers and the AIPA Secretariat and AIPA General Secretary.