Corruption fight must be stronger, says top Party leader
Thứ Bảy, 19/11/2022, 08:33
The ongoing fight against corruption in Vietnam has recorded initial gains in recent times and it must continue with higher determination and stronger actions to be taken, Party General Secretary Nguyen Phu Trong said in Hanoi on November 18.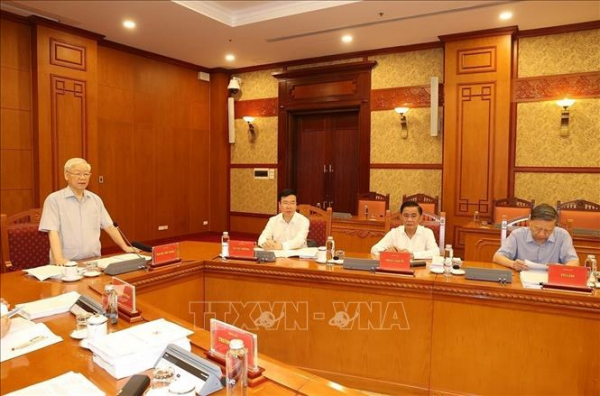 Addressing a meeting of the Standing Board of the Central Steering Committee for Corruption and Negative Phenomena Prevention and Control, Trong, who is the head of the Central Steering Committee, pointed to slow progress made in handling graft cases, saying some cases have been delayed due to slow valuation of assets and ineffective coordination among relevant agencies.
Corruption remains serious and complicated in some fields, especially those related to land, bidding, securities, corporate bond issuance, causing serious consequences, he admitted.
There is collusion and connection to illegally make a huge profit between degenerate officials and businesses and organizations, causing frustration among ranking officials, Party members and people, he added.
Notably, he said provisions of the law reveal loopholes that are yet to be amended and supplemented, especially in the fields of auction, bidding, price appraisal, and corporate bond issuance.
The Party leader underscored the need to perfect institutions to close gaps, along with implementing anti-corruption solutions, strengthening inspection, supervision, and audit, and prosecuting those involved in corrupt behaviours.
There is 'no-go zone' in the anti-corruption campaign, reiterated the Party leader, referring to recent decisions by the Political Bureau, Party Central Committee and the Party Secretariat to discipline members of the Party Central Committee, ministers, deputy ministers, secretaries of provincial Party Committees, heads of provincial governments, and many other high-ranking officials.
We will continue to do the same in the coming time, even for criminals who have fled abroad to ensure violators must be duly punished according to the law, stressed Trong.
The Party leader also reiterated the Party's strong stance on combatting corruption among ranking officials, stating that it will be an enduring policy. He refuted rumours that the ongoing anti-corruption drive, which includes the handling of ranking officials who commit violations, is an internal purge or an internal struggle among various factions of the Party.
The fight must be accelerated because it is for the survival of the Party and the regime and for the prosperity of the country, he said.
Over recent years Vietnam has stepped up the fight against corruption by bringing to light notorious cases which spark public anger. Among them are the test kit scandal at Viet A Technologies JSC, the bribery scandal regarding repatriation flights for Vietnamese people at the Consular Department, and the share manipulation scandal at FLC Group. Two other cases under close scrutiny are the property fraud case at Tan Hoang Minh Group and the case regarding medical supply procurement violations at AIC – Vietnam Valuation and Investment JSC.
Party General Secretary Trong, a pioneer in the fight, has said there is 'no-go zone' in corruption prevention and control. Consequently, many high-ranking officials and military officers have been disciplined for their misconduct with regard to these cases.