German chancellor Olaf Scholz takes night walk around Hanoi lake
Thứ Hai, 14/11/2022, 14:23
 Visiting German Chancellor Olaf Scholz and his host Pham Minh Chinh had a night out walking around Hoan Kiem Lake a historical landmark in the heart of Hanoi – on November 13 evening.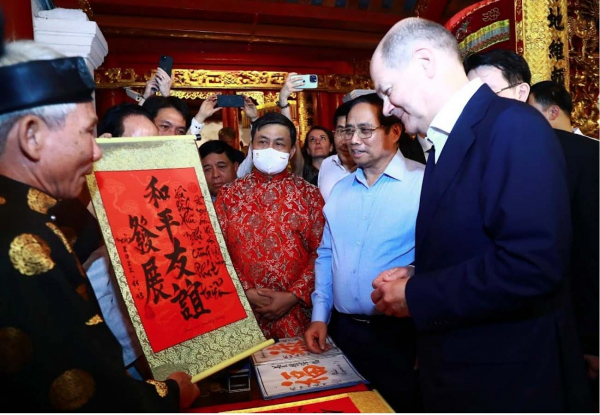 The two PMs visited Ngoc Son Temple where they offered incense and inquired into the history of the temple and the lake.
The German chancellor was given calligraphy that reads 'Peace, Friendship and Mutual Development'.
Schol is in Hanoi for an official visit to Vietnam on November 13-14 at the invitation of Prime Minister Pham Minh Chinh.
He held talks with Chinh, met with other senior Vietnamese leaders and attended a business roundtable between Vietnam and Germany.