Minister To Lam meets voters in Hung Yen province
Thứ Năm, 23/06/2022, 23:50
Member of the Hung Yen Province National Assemble (NA) Deputies' Delegation and Minister of Public Security General To Lam and other NA deputies of Hung Yen province had a meeting with voters in Yen My district, Hung Yen on June 22 to report voters on results of the third NA sitting.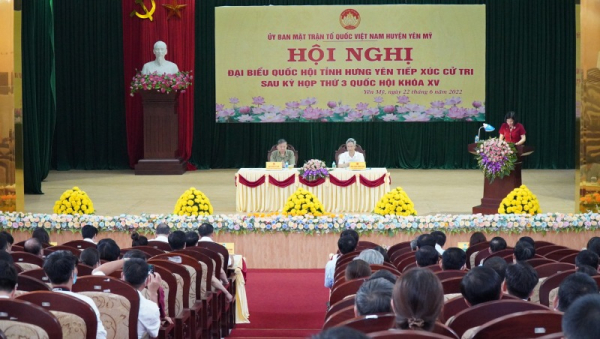 The meeting was also attended by local leaders, including Secretary of the Hung Yen Provincial Party Committee Dao Hong Van.
After listening to major contents of the third NA sitting, local voters voiced their opinions on local issues related to land management and use, pollution in the Bac Hung Hai river, implementation of social welfare policies, the building of the communal-level police force. Deputies and local officials acknowledged voters' opinions and ideas, and answered their questions.
Speaking at the meeting, Minister To Lam as a NA deputy requested the provincial leadership to completely settle voters' complaints and issues. Regarding pollution in the Bac Hung Ha river, he pledged that the Ministry of Public Security (MPS) will direct environmental police, police departments of Hanoi, Bac Ninh, Hai Duong and Hung Yen to increase professional measures to inspect, detect and strictly handle untreated waste water discharged to the river.
The MPS minister also called on local people to report environmental offences to the local police and vowed to advise the Government to draw up a comprehensive environmental restoration project to improve the environment and water quality in the river.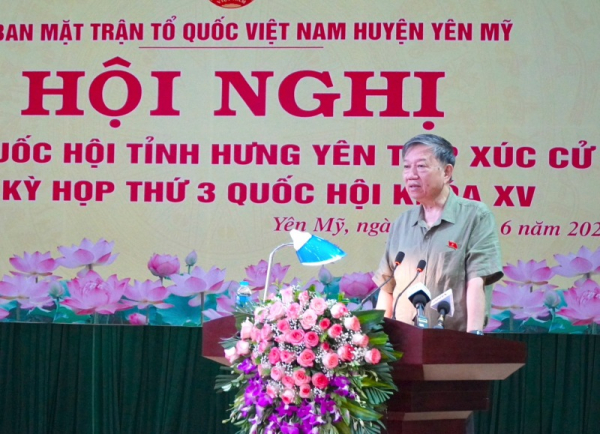 In terms of the bill on grassroots-level public order and security force, Minister To Lam revealed that the MPS was entrusted to draft the law. In fact, the draft law was introduced at the 10th sitting of the 14th NA in November 2020. But there were different opinions on the draft law as it is related to various sectors and fields.
To conclude, Minister To Lam affirmed that he and other NA deputies will reflect local voters and issues to the next NA sitting.  
On this occasion, Minister To Lam offered an emergency vehicle to the Yen My Health Center.