Mongolian President warmly welcomed in Hanoi on State visit to Vietnam
Thứ Tư, 01/11/2023, 19:03
President Vo Van Thuong on November 1 hosted a welcoming ceremony for Mongolian President Ukhnaagiin Khurelsukh who arrived in Hanoi on the same day for a five-day State visit to Vietnam.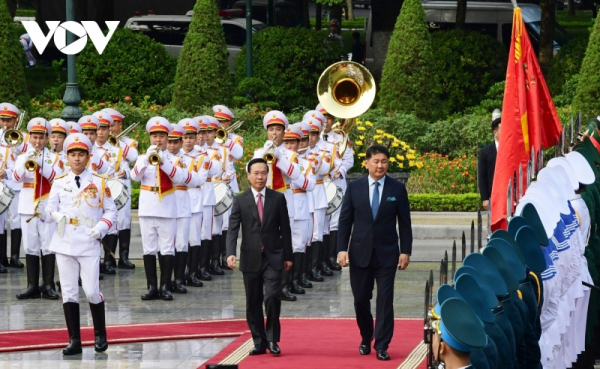 The welcoming ceremony was held at the Presidential Palace in Hanoi. President Thuong invited his distinguished guest to the podium of honour to render the flag salute, and review the guard of honour.
After the welcoming ceremony, the two leaders held talks, reviewing cooperation between the two countries and set out directions to promote bilateral relations in the future.
Vietnam and Mongolia established diplomatic relations in 1954. They have treasured traditional friendship, and provided mutual support at multilateral forums.
Mongolia considers Vietnam an important partner in the Asia-Pacific region and the most important partner in Southeast Asia.
Both countries have signed a number of cooperation documents in the fields of economy, trade, culture, agriculture, immigration management. They are now working on new agreements, including an agreement on investment promotion and protection, and an agreement on visa exemption for ordinary passport holders.
Two-way trade between the two countries reached US$85 million in 2022, and the figure is expected to keep rising in coming years as there is still much room for both sides to enhance bilateral cooperation.
During his five-day stay, Khurelsukh will meet with other senior Vietnamese leaders and attend several important events, including a Vietnam – Mongolia business forum.