NA Defense and Security Committee examines draft Law on Mobile Police
13:04 12/10/2021
The National Assembly (NA) Committee for Defense and Security, on October 8, held the second plenary session, to officially examine the Mobile Police Law Project.
At the meeting, Major General Nguyen Minh Duc, Vice Chairman the NA Committee for Defense and Security, underscored the necessity of the Law on Mobile Police and cited explanations mentioned in the Government's Report, saying that the law aims to institutionalize the guidelines of the Party and the State on the building of a revolutionary, professional, elite, and mobile police force.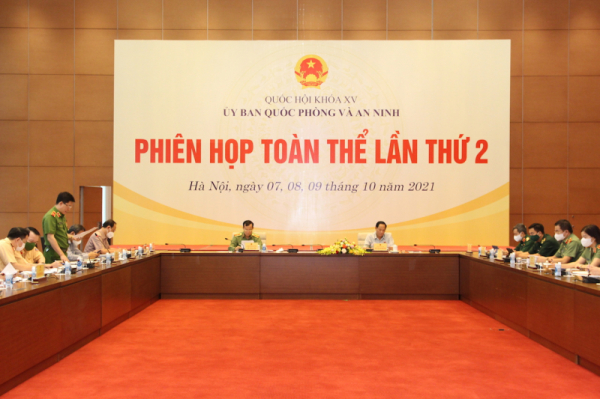 Regarding the organizational apparatus of the Mobile Police Force (Article 13), the Government proposes two options: First, the organizational apparatus of the force is defined as articulated in the draft Law.
That means the law gives basic principles on the force's organization, which is mainly constituted of the Mobile Police Command and the Provincial Mobile Police. Option 2 is to adjust the force's organization based on the opinions of the Standing Committee of the NA.
Accordingly, the Mobile Police Force will consist of six elements: special combat force, special task-force, security guard force, animal handler police force, airborne and waterway police force, and mobile police reserve.
At the meeting, the delegates continued  discussing other contents of the draft Law on Mobile Police, including the status and functions, operational principles, force building, international cooperation and powers of the force.
To conclude the meeting, Major General Le Tan Toi, Chairman of the NA Committee for National Defense and Security asked the Drafting Team to further revise the draft law based on comments of members of the NA Standing Committee for Defense and Security.