Party General Secretary extends greetings for Year of the Cat
Chủ Nhật, 22/01/2023, 00:27
When the clock stroke midnight on January 21, Party General Secretary Nguyen Phu Trong delivered a speech, extending lunar New Year greetings to all Vietnamese fellow countrymen nationwide and overseas.
He said the Year of the Tiger 2022 was full of big and unexpected difficulties and challenges causing heavy and negative impacts on not only Vietnam but also the whole world.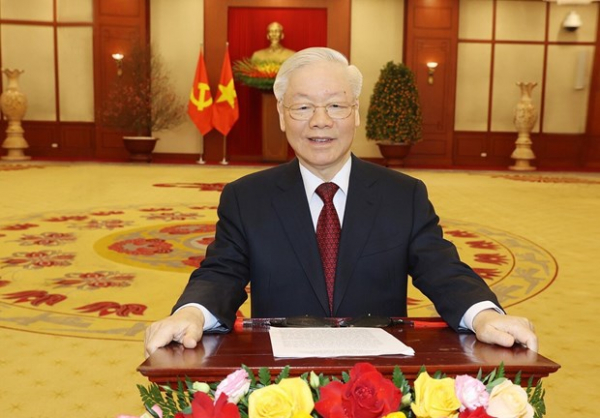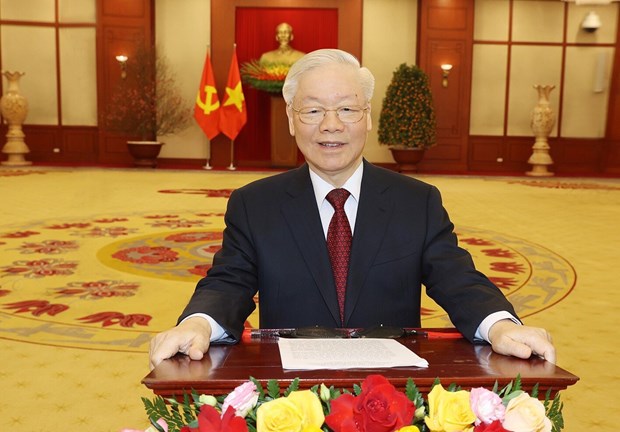 In that special context, the entire Party, people, and army brought into play the strong patriotism, resolve, mettle, solidarity, dynamism, and creativity and managed to obtain a number of highly important and relatively comprehensive achievements in concurrently fighting against the pandemic, promoting socio-economic recovery and development, and building an independent and self-reliant economy with active, comprehensive, intensive, and effective integration into the world; keeping political and social stability; guaranteeing defence and security; firmly maintaining a peaceful and stable environment for national development; and enhancing the people's trust in the Party, State, and socialist regime, thereby leaving good impression on and winning high evaluation from international people and friends, and also giving the country many precious lessons, according to the leader.
On behalf of the Party and State leaders, he thanked compatriots, comrades, and soldiers nationwide for their significant achievements and contributions last year.
The Year of the Cat 2023 is the third and also crucial year for the implementation of the Resolution of the 13th National Party Congress and the socio-economic development plan for 2021 - 2025.

With the determination to develop an increasingly strong, prosperous, and happy nation, the entire Party, people and army need to continue upholding patriotism and solidarity to surf every difficulty and challenge so as to step up reforms in a more comprehensive and concerted manner; build and firmly safeguard the Fatherland; and maintain a peaceful and stable environment for successfully implementing the set tasks and targets, thus creating momentum for fast and sustainable national development in the following years, the General Secretary went on.

Concluding his speech, the Party leader once again wished all Vietnamese people good health, joy, happiness, and successes in the New Year./.