PM Chinh works with Permanent Delegation of Vietnam to UN
Thứ Hai, 16/05/2022, 21:39
Prime Minister Pham Minh Chinh has suggested that officials and employees of Vietnamese representative missions firmly grasp bilateral and global issues, such as pandemic response, resource depletion, aging populations, and climate change.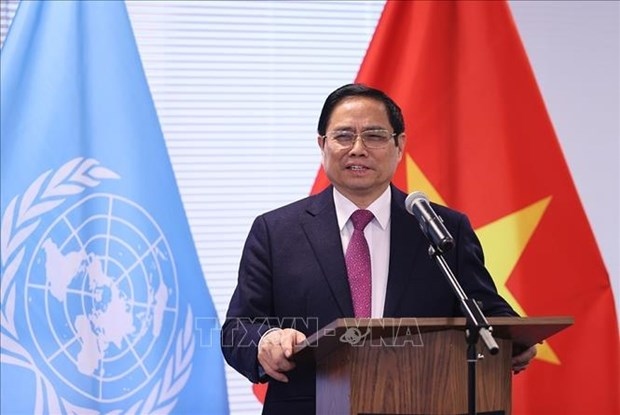 His suggestion was made during a recent working session held with the Permanent Delegation of Vietnam to the UN as part of his ongoing working visit to the US.
Ambassador Dang Hoang Giang, permanent representative of Vietnam to the UN, briefed PM Chinh on the mission's activities, whilst reviewing outstanding achievements in the countries ties with the UN over the past 45 years since the nation joined the world's largest international organisation.
The Ambassador affirmed that the nation is a proactive member of the UN, with lessons from its experience being applied by the UN in various parts of the world. The goals that the country pursues are also those shared by the UN, including peace, stability, co-operation, development, and the drive to constantly improve people's lives.
The Vietnamese Government leader also underscored the need to firmly grasp and concretise the nation's foreign policy of independence and self-reliance for the causes of peace, friendship, co-operation, development, multilateralization, and diversification of external relations. This is along with being a good friend, a reliable partner, and an active and responsible member of the international community to develop an independent and self-reliant economy, associated with proactive, extensive, substantive, and effective international integration.
PM Chinh asked officials and employees of representative agencies to continue to improve their qualifications, pay close attention to exchanges, and learn diplomatic skills from the representative agencies of other countries and international friends, especially foreign partners. This should be done whilst also maintaining solidarity and unity, taking care of the Vietnamese community, especially intellectuals and students in order to make greater contributions to boosting the cause of national development and ties with the United States in a more practical and effective manner.