President Phuc positive on close cooperation with Thai NA
Thứ Năm, 17/11/2022, 18:58
President Nguyen Xuan Phuc met President of the Thai National Assembly (NA) Chuan Leekpai on November 17 in Bangkok within the framework of his official visit to Thailand.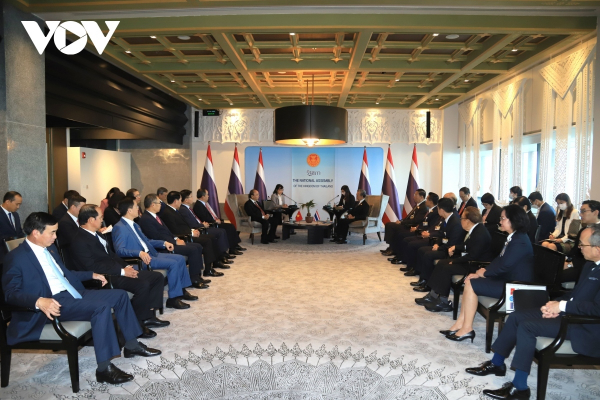 The Vietnamese State leader outlined Vietnamese economic recovery and growth in the post-COVID period, while affirming that the country is an important partner of Thailand in Asia.
President Phuc went on to show his elation at the close ties between the two NAs, including the outcomes of talks between Vietnamese NA Chairman Vuong Dinh Hue and his Thai counterpart in August, 2021, whilst praising the Thai leader's contributions to the two countries' friendship and co-operation.

They consented to intensify high-level and all-level contacts and exchanges moving forward, as well as continuing to promote the role of the legislative bodies in boosting bilateral relations and supervising the implementation of the signed agreements. This is along with sharing relevant experience in the building and perfection of policies and laws to facilitate bilateral collaboration.

In response, Thailand's NA President Leekpai affirmed his nation's readiness to closely co-ordinate with the Vietnamese side in carrying out the agreement on mutual legal assistance in civil matters freshly signed between the two nations.
Speaking highly of the quality of the Vietnamese education system, he underlined the need to expand bilateral ties in education and training, whilst also intensifying the teaching of the Vietnamese language in Thailand and vice versa.
He also asserted that the Thai NA will continue supporting and creating more favourable conditions for the Vietnamese community and Vietnamese associations in his country.

The Vietnamese leader proposed that the Thai parliament support the opening of the Thai market for more Vietnamese goods, as well as speeding up the signing and ratification of new agreements in order to better meet diverse collaboration needs between the two sides.

Regarding the international and regional situations, President Phuc suggested the Thai Na continue to back the maintenance of ASEAN's common stance on keeping peace and stability; ensuring security, safety, and freedom of both navigation and aviation in the East Sea; and settling disputes by peaceful means, on the basis of international law, including the 1982 UN Convention on the Law of the Sea (UNCLOS). This should be done whilst fully implementing the Declaration on the Conduct of Parties in the Sea East (DOC) and soon achieving a substantive and effective Code of Conduct in the East Sea (COC) in accordance with international law.
Thai NA President Leekpai respectfully conveyed his regards to Vietnamese senior leaders.
In response, President Phuc also respectfully conveyed greetings of the Vietnamese senior leaders and reiterated the invitation of NA Chairman Hue to invite the President of the Thai NA to visit Vietnam at an appropriate time.