Vietnam- an important partner in SEA: New Chilean FM
18:19 03/05/2022
Vietnam is one of Chile's important partners in Southeast Asia, newly-appointed Chilean Foreign Minister Urrejola Noguera affirmed during a reception for Vietnamese Ambassador to Chile Pham Truong Giang who paid a courtesy visit on May 2.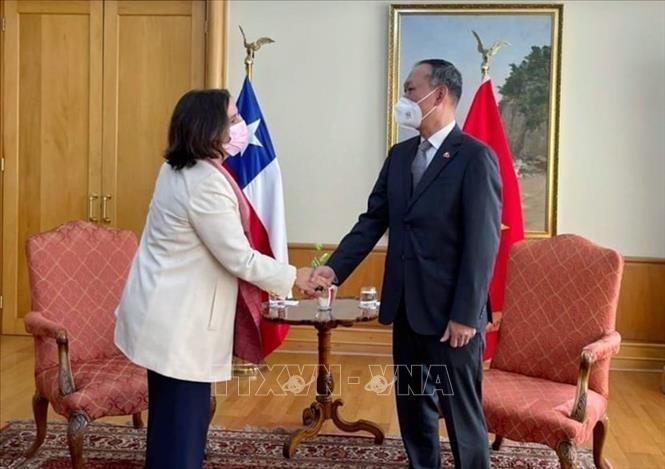 During the meeting, FM Noguera and Ambassador Pham Truong Giang reviewed and shared the positive developments in bilateral relations over the past time. Despite being affected by the COVID-19 pandemic, last year's bilateral trade reached a good figure of US$1.59 billion, making Vietnam continue to be Chile's largest trading partner in ASEAN.
The Chilean diplomat said she hopes that Ambassador Pham Truong Giang will continue to make positive contributions to the development of the Vietnam-Chile friendship and cooperation.
Noguera asked the Ambassador to coordinate in accelerating the signing and implementation of existing Memorandum of Understanding between the two countries, especially in agricultural cooperation, and show Vietnam's support for Chile's accession to the  ASEAN-Australia-New Zealand Free Trade Agreement (AANZFTA) and its bid to run for the membership of the United Nations Human Rights Council for the 2023-2025 tenure.
For his part, Ambassador Pham Truong Giang pledged to go ahead with his contribution to connecting relevant ministries, businesses and localities of the two countries in order to fully tap the potential of cooperation, and asked Chile to share experience in the COVID-19 pandemic response, climate change adaptation and the transition to clean energy.
Giang expected that the two sides would work together to promote the exchange of delegations at all levels and the existing annual dialogue and cooperation mechanisms such as the political consultation between the two foreign ministries, and the consultation mechanism between the two trade ministries.