Vietnam, China boost cooperation in crime combat
20:23 17/09/2021
Vietnamese Minister of Public Security General To Lam and Secretary of the Commission for Political and Legal Affairs of the Communist Party of China (CPC) Central Committee Guo Shengkun had a video talk on September 15.
The event was also attended by Vietnamese Deputy Ministers of Public Security, namely Lieutenant General Luong Tam Quang and Lieutenant General Nguyen Duy Ngoc.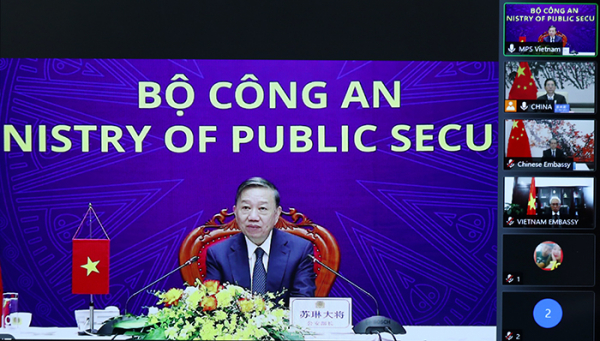 During the talk, Minister To Lam stressed that Vietnam is grateful to the Chinese side for its support in the Vietnamese fight against the COVID-19 pandemic. The support shows that the traditional friendship between the two Parties and States is firm and close.
According to Minister Lam, over the past time, leaders of the two Parties and States have conducted various exchanges, supporting each country's economic reforms and development for peace and stability in the region and the world.
The Vietnamese Minister affirmed that the Vietnamese Party and State have considered the preservation and development of the Vietnam-China comprehensive strategic cooperative partnership a top priority in the country's foreign policy.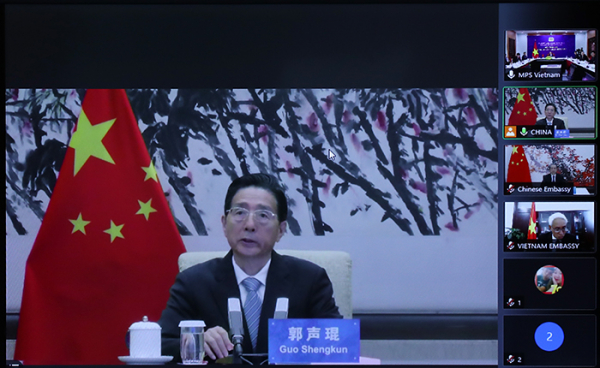 Cooperation between the Vietnamese Ministry of Public Security and China's law enforcement agencies has played a significant role in protecting the absolute leadership of the CPC and the Communist Party of Vietnam (CPV) and socialist systems of the two countries, as well as in ensuring national security, and social order and safety in each country.
Despite the negative impact of the COVID-19 pandemic, the two sides have still gained achievements in bilateral cooperation. The good relationship between the two countries has reflected in the recent successful visit of Chinese State Councilor and Minister of Public Security Zhao Kezhi to Vietnam, the 7th Vietnam – China Conference on Cooperation in Crime Control (February 2021), and the 5th Vietnam - China Deputy Minister-level Strategic Security Dialogue (November 2020), Minister Lam said.
The two sides also effectively coordinated in maintaining political stability, ensuring border security, effectively preventing and fighting crimes, controlling immigration and protecting citizens of one country in the other, he added.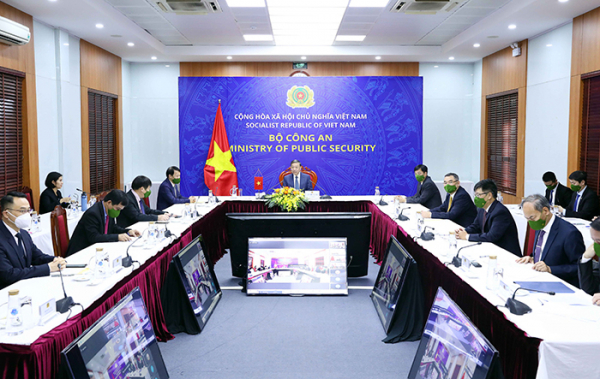 For his part, Mr. Guo Shengkun expressed his hope that the China-Vietnam comprehensive strategic cooperative partnership will further develop and cooperation between the Vietnamese ministry and law enforcement agencies of China will continue to expand.
During the talk, the two sides agreed to continue the exchange of information mechanism about the regional and global situation, and step up collaboration in economy, trade and investment in a substantive, balanced and healthy fashion after the COVID-19 pandemic is put under control.
Vietnamese and Chinese competent agencies will pay attention to promoting more substantive coordination in immigration management, preventing illegal border crossings, ensuring security and safety for agencies, businesses and citizens of one country in the other.
The two sides will also strengthen cooperation in preventing and fighting crime, and pursuing fugitive. The two sides agreed to step up the signing of an agreement on the transfer of sentenced persons between the two countries and support each other in the fight against the pandemic.