Vietnam considers US a leading partner, says State President
Thứ Bảy, 19/11/2022, 08:33
Vietnam considers the United States one of its leading partners and wishes to promote bilateral relations in a substantive, stable and deep manner on the basis of basic principles.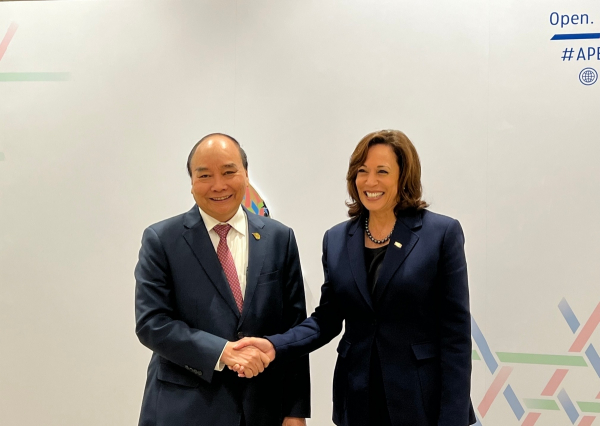 State President Nguyen Xuan Phuc was speaking while meeting with US Vice President Kamala Harris in Bangkok, Thailand, on November 18.
Phuc conveyed his invitation to US President Joe Biden to visit Vietnam at an appropriate time.
The president welcomed Biden's earlier request for a phone call with Vietnamese Party General Secretary Nguyen Phu Trong, and suggested that the two sides make thorough preparations for the phone call.
He highly appreciated the Vice President's role in promoting relations between Vietnam and the US, and invited her to visit Vietnam again following her trip in 2021.
The Vietnamese leader thanked the US for donating a large amount of COVID-19 vaccines, helping Vietnam control the virus. He congratulated the US on assuming the role of hosting APEC 2023 and affirmed Vietnam would actively coordinate with the US to ensure the success of the APEC Year.
Kamala Harris for her part affirmed that the US wishes to further promote relations with Vietnam to bring benefits to the two countries and actively contribute to peace, stability, cooperation and development in the region and in the wider world.
Both Phuc and Harris are attending the 29th APEC Economic Leaders' Meeting in Bangkok, Thailand.