Vietnam, Laos sign MoU on inspection cooperation
Thứ Năm, 02/06/2022, 22:39
The two inspection agencies of Vietnam and Laos on June 1 signed a new Memorandum of Understanding (MoU) aimed at further improving the work of inspection, settlement of complaints and denunciations, and anti-corruption.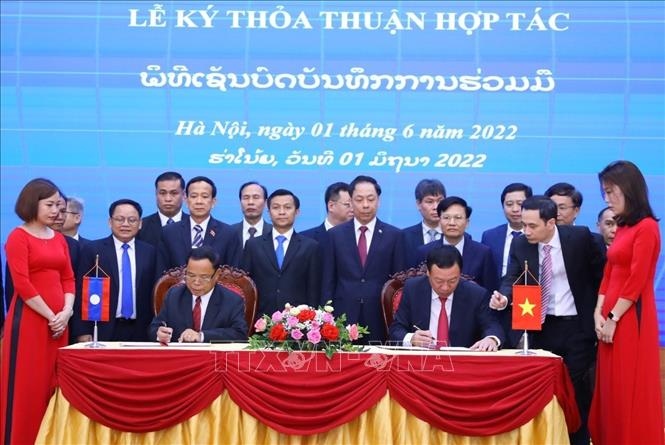 The signing is part of the visit to Vietnam by a high-ranking Lao inspection delegation within the framework of the cooperation agreement between the Government Inspectorate of Vietnam and the State Inspection Authority of Laos.
Inspector General of Government Inspectorate, Doan Hong Phong showed his elation to welcome the Lao inspection delegation in the context that the two countries are launching a wide range of practical activities to celebrate the 60th anniversary of the Vietnam - Laos diplomatic relations (1962- 2022) and 45 years of the signing of the Treaty of Amity and Cooperation (1977 - 2022).
According to Government Inspector General Doan Hong Phong, the two countries' inspection agencies have signed cooperation agreements for 5 times in 1998, 2005, 2007, 2012 and 2016 in a bid to orientate cooperation activities regarding inspection settlement of complaints, denunciations and anti-corruption between the two inspection agencies.
During nearly 25 years of friendly cooperation, through periodic exchange of delegations and training of inspectors, the two inspection agencies have shared a lot of information and good practices.
As a result, the capacity of the staff of both sides has been enhanced, thus contributing to improving the effectiveness and efficiency of the inspection, settlement of complaints and denunciations, and anti-corruption of each nation.
Government Inspector General Doan Hong Phong expressed his hope that, in the coming time, the two agencies will ramp up closer coordination to effectively carry out the cooperation agreement, continue to bolster cooperation, share experience and good practices in order to improve the quality of effectiveness and efficiency of inspection.
Lao State Inspector General Khamphan Phommaphat said he hopes that in the coming time, the two sides will increasingly strengthen ties across multiple fields on the basis of common interests, helping take the relationship between the two countries and the two inspectorate agencies new heights.