Vietnam urges prompt response to humanitarian needs in Ethiopia
19:02 07/10/2021
Nguyen Phuong Tra, Deputy Permanent Representative of Vietnam to the United Nations (UN), has stated that responding to humanitarian needs in Ethiopia is currently the most urgent task, requiring support of the international community.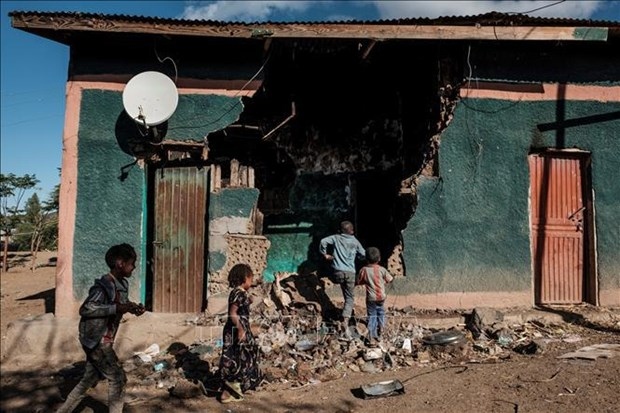 Addressing an urgent meeting of the UN Security Council (UNSC) on humanitarian situation in Ethiopia in New York on October 6, the Vietnamese diplomat called on the Ethiopian government, the UN and relevant parties to conduct dialogues, build trust and work closely to resolve differences in this issue.

Tra highlighted the vital role played by UN agencies, including the UN Children's Fund (UNICEF), the UN humanitarian aid  coordination body (OCHA) and other international partners, in supporting humanitarian activities in the African nation.

According to the diplomat, the current conflict in Ethiopia stems from political, historical and ethnic causes, so involved parties need to stop fighting, conduct dialogues, and start a political process led by Ethiopia, and put interests of the people first, towards a comprehensive solution for stability and development in the country on the basis of principles of international law and the UN Charter.

She called on the international community, including the UNSC, to support Ethiopia to overcome current difficulties on the basis of respecting Ethiopia's independence, sovereignty, unity and territorial integrity.

UN Secretary-General Antonio Guterres underlined the magnitude of the crisis in northern Ethiopia after nearly a year of fighting between federal troops and Tigray regional forces.

The conflict has spilled over into neighbouring Afar and Amhara, and some seven million people in total require food aid and emergency support, he said.

Guterres said aid levels are currently insufficient to meet needs amid obstacles such as roadblocks and movement restrictions, adding that access to electricity remains precarious, and millions have been cut off from communications as well as vital services, such as healthcare.

In this context, the Ethiopian government's recent expulsion of UN staff is inconsistent with principles enshrined in the UN Charter, he stressed.

He urged the Ethiopian Government to allow the unrestricted movement of desperately needed fuel, cash, communications equipment, and humanitarian supplies into all the regions in need, while appealing to all members of the UNSC to do all they can to support these calls and to unify behind the efforts of the UN and its partners in Ethiopia.

The UN chief said all efforts should be focused on saving lives and avoiding a massive human tragedy.