Vietnam vows to forge strategic partnership with Russia
Thứ Ba, 23/05/2023, 18:05
 Vietnam attaches great importance to the comprehensive strategic partnership with Russia, affirmed Party General Secretary Nguyen Phu Trong during his talks with Dmitry Medvedev, chairman of the United Russia Party and deputy chairman of the Security Council of the Russian Federation, in Hanoi on May 22.
Trong also said the Communist Party of Vietnam is keen to develop relations with political parties in Russia, including the ruling United Russia Party, as a political foundation for long-term and sustainable relations between the two countries.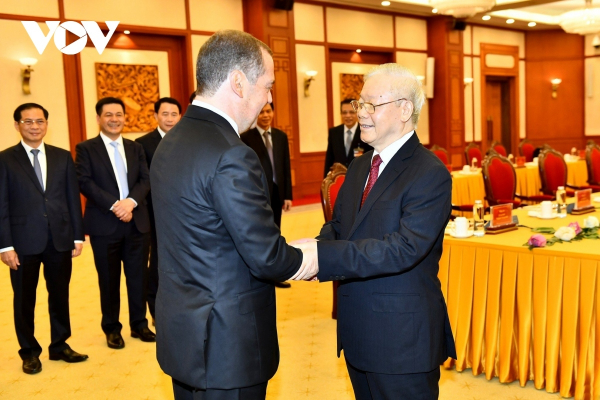 He briefed his guest on the major socio-economic development and international integration gains Vietnam has obtained in recent times under the leadership of the Communist Party, noting the country's Party building and rectification drive has been accelerated and resulted in remarkable progress, especially in the fight against corruption and negativity.
The Party leader also highly appreciated the achievements Russia has obtained under the reign of President Vladimir Putin and the ruling United Russia Party.
Medvedev for his part congratulated Vietnam on its dynamic development, and briefed his host on the situation in Russia, as well as relations between the two countries and between the United Russia Party and the Communist Party of Vietnam, saying cooperation between the two parties has played an increasing role in bilateral relations.
He agreed with Trong's assessments, especially on major directions and measures to promote relations between the two parties and countries in the coming time.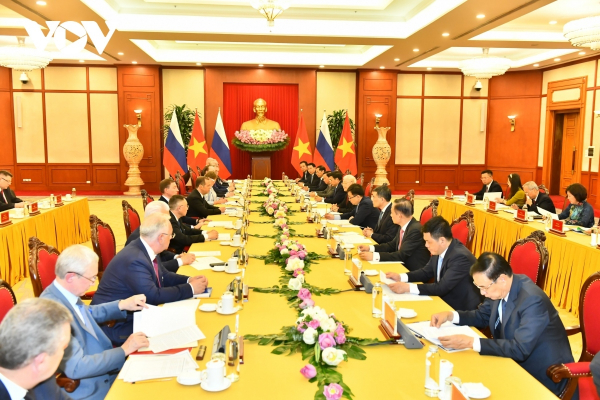 The two leaders expressed their delight at the positive development of the good traditional friendship and the comprehensive strategic partnership between the two countries, as well as the close cooperation between the two parties based on high political trust and through high-level exchanges. Leaders and representatives of the Communist Party of Vietnam have attended important international conferences of political parties chaired by Medvedev.
The two sides have made efforts to overcome difficulties and promote cooperation in various fields such as economy, science - technology and education.
Both host and guest agreed that the two sides should increase high-level visit exchanges, improve efficiency and expand cooperation in economy, science-technology, culture, and education among others, and strengthen exchanges between their mass and youth organisations.
They also vowed to promote bilateral and multilateral trade and investment cooperation mechanisms and frameworks, and enhance the exchange of information on the international situation, cooperation between the foreign agencies of the two countries, and coordination at international forums.
On this occasion, the two sides issued a joint statement on the results of the official visit to Vietnam by Dmitry Medvedev, chairman of the United Russia Party.
The visit was said to help enhance bilateral cooperation on regional and international issues in order to consolidate peace and security, for the benefit of the two peoples, protect and strengthen the principles of international law and the Charter of the United Nations, and continue to promote bilateral relations based on cooperation documents signed by senior leaders of the two parties and two countries.