Vietnamese Government leader meets US, EC leaders
Chủ Nhật, 21/05/2023, 21:04
Prime Minister Pham Minh Chinh met US President Joe Biden and President of the European Council (EC) Charles Michel on May 20, as part of his activities during the ongoing expanded summit of the G7 in Japan.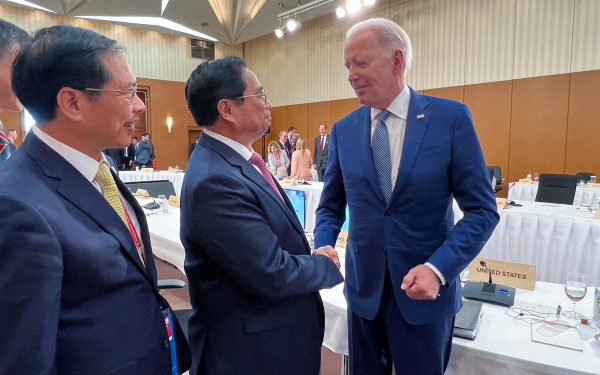 PM Chinh and US President Joe Biden consented to maintain the exchange of all-level delegations.

The Vietnamese Government leader said bilateral ties have grown steadily over the recent past, with the economic-trade cooperation being the focus. President Biden hailed the outcomes of the phone talks with Party General Secretary Nguyen Phu Trong.

The two sides exchanged views on a score of measures to push up relations between the two countries and international and regional issues of shared concern.

Also at the summit, Foreign Minister Bui Thanh Son met his US counterpart Antony Blinken, comparing notes on measures to speed up the implementation of the agreements reached by the two countries' high-level leaders.
At the meeting between Chinh and EC President Charles Michel, the two sides expressed satisfaction at the positive progress in the Vietnam-EU ties.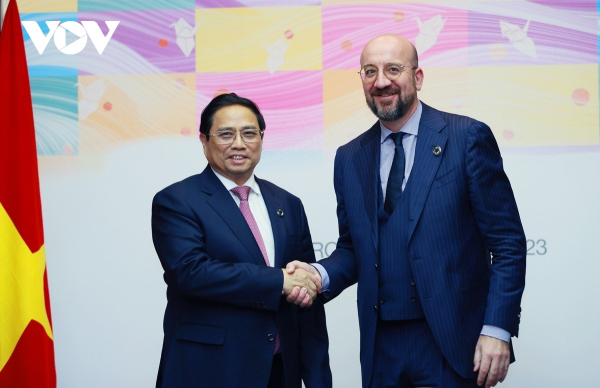 Highlighting the EU as a partner of prime importance in Vietnam's external policy, PM Chinh suggested both sides strengthen the exchange of all-level delegations, and maintain and bring into play the efficiency of cooperation and dialogue mechanisms in the framework of the Vietnam-EU partnership and cooperation agreement.

He asked the EC leader to push the parliaments of member countries to soon ratify the EVIPA; and the EC to raise its voice for the EU to soon lift its yellow-card warning concerning the IUU against Vietnam's seafood exports He also expressed his hope for the EU and member countries to continue supporting Vietnam in attracting resources to carry out the statement on the Just Energy Transition Partnership (JETP).  
The EC leader showed his elation at the vigorous, intensive and extensive development in the Vietnam-EU relations, and applauded Vietnam's efforts in the corruption fight.