7th Vietnam – Japan Vice-Ministerial Security Dialogue held in Vietnam
Thứ Sáu, 10/03/2023, 19:11
Deputy Minister of Public Security of Vietnam Senior Lieutenant General Luong Tam Quang and Deputy Commander of the National Police Agency of Japan Ogata Yoshimi co-chaired the 7th Vietnam-Japan Vice-Ministerial Security Dialogue, on March 8, 2023, in Hanoi.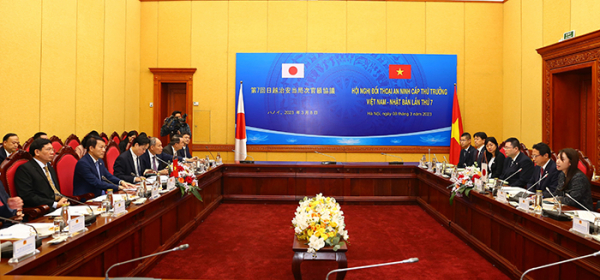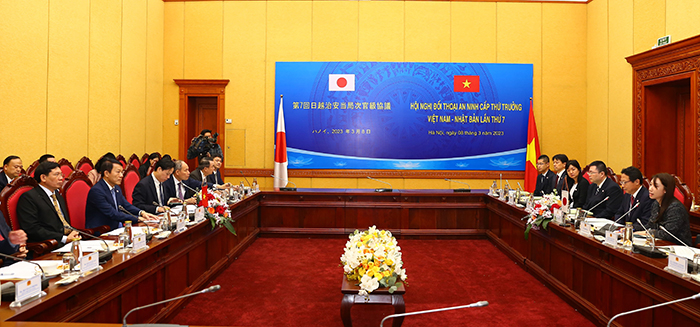 Speaking at the opening session, Deputy Minister Luong Tam Quang expressed delight at the renewal of the Vietnam - Japan Vice-Ministerial Security Dialogue after the delay due to the COVID-19 pandemic.
"This dialogue is an opportunity for the two sides to jointly evaluate the results of cooperation, share information, exchange matters of mutual interest, discuss and reach agreement on directions and contents of the bilateral cooperation in the coming time, as well as seek efficient approaches to solve criminal issues related to the two countries in the new security and crime situation, contributing to strengthening mutual trust between the two sides, the mutual benefit of the two countries, and peace, stability and development in the region," Deputy Minister Luong Tam Quang stated.
Agreeing with Deputy Minister Luong Tam Quang, Deputy Commander Ogata Yoshimi said that the dialogue, the agenda and content of which experts at all levels had drafted, would serve as a basis for the two sides to set the orientation for bilateral cooperation in the future.
At the dialogue, the two sides also discussed and exchanged many important contents in various fields, shared information related to ensuring national security and maintaining social order and safety of each country in a open and frank manner, contributing to deepening the Vietnam-Japan extensive strategic partnership and enhancing peace and prosperity in Asia.