Minister To Lam works with Counter Narcotics Police Department
22:43 20/05/2021
General To Lam, Minister of Public Security, leading a delegation of Ministry of Public Security (MPS) on May 19 works with the Counter Narcotics Police Department.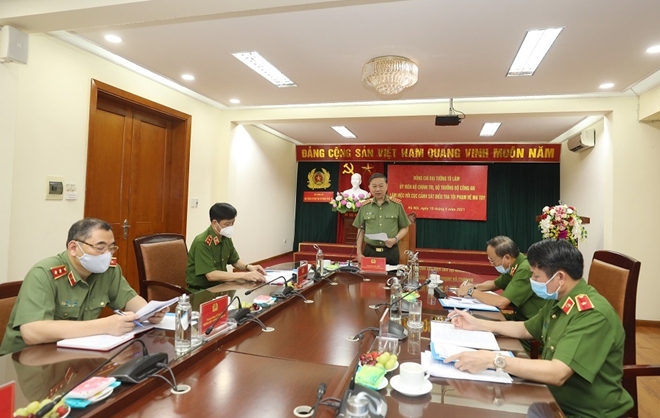 Minister To Lam speaks at the meeting. Photo MPS Portal.
The meeting saw the attendance of other leaders of the MPS.
At the meeting, Major General Nguyen Van Vien, Director of the Counter Narcotics Police Department briefed the delegation on their task performance over the past time, saying that the situation of drug-related crime has been complicated in key routes and areas.
In the first 4 months of 2021, the counter narcotics police force detected 10,250 cases and arrested more than 14,000 suspects, seized 237kg of heroin, more than 1,014kg and 2,413,936 synthetic drug pills, over 816kg of marijuana and many related exhibits.
Addressing at the meeting, Minister To Lam spoke highly of the counter narcotics police force's achievements in performing their tasks.
Regarding their key missions in the coming time, the Minister asked all counter-narcotics officers to raise their sense of responsibility and strive to fulfill the objective of controlling drug-related crime on the national scale.
Additionally, the force should effectively manage drug addicts while efficiently enforcing the Law on Drug Prevention and Control. The minister of public security also asked to force to promote international cooperation in drug prevention and fight.