Minister To Lam works with three provincial-level Election Commissions
21:45 22/05/2021
PSNews - General To Lam, Minister of Public Security and Member of the National Election Council, on May 21 chaired an online meeting with the Election Commissions of Da Nang city, Quang Nam province and Quang Ngai province.
At the meeting, representatives of the Election Commissions of the three localities briefed the Minister on their preparation for the election of deputies to the 15th National Assembly and People's Councils for the 2021-2026, saying that they have carefully prepared for the election in line with the laws and regulations while taking preventive measures against the COVID-19 pandemic during the election day.
Particularly, the local police forces have effectively ensured security and social order for the election and actively prevented sabotage plots by reactionary and hostile forces against the election.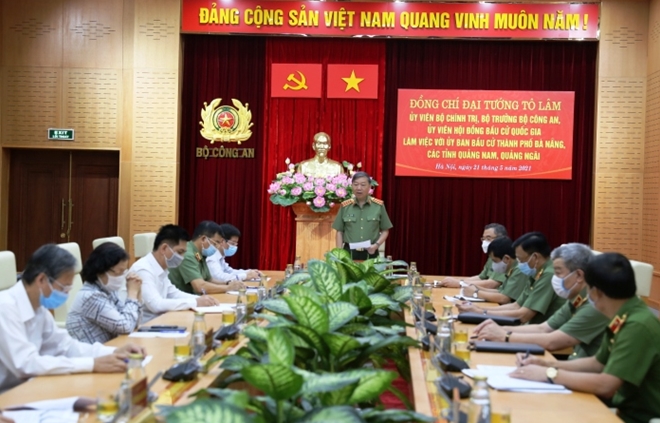 General To Lam speaking at the meeting.
They also strengthened State management over social order and residency of Vietnamese and foreign people while actively collecting illegally stored weapons, explosives and supporting tools from people, maintaining fire safety and traffic order, and intensifying the fight against crimes in their localities.
Addressing the meeting, Minister To Lam spoke highly of the three local Election Commissions' efforts and achievements in the preparation for the election.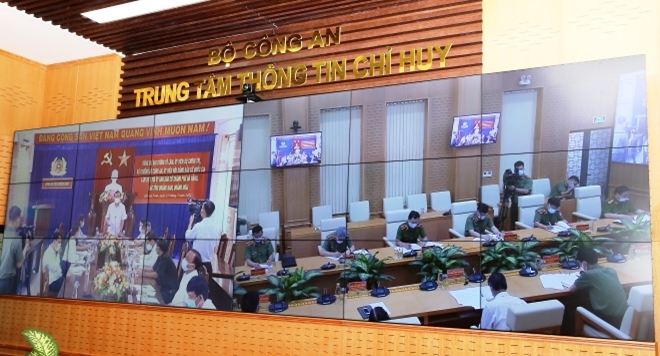 Overview of the online meeting.
Regarding their missions to safeguard the Election Day (May 23), the Minister asked the local Election Commissions to strictly follow the Law on Election of Deputies to the National Assembly and People's Councils as well as the directives and instructions of the Government and the National Election Council while providing sufficient resources and technical services for the election and controlling the COVID-19 pandemic in each locality.
The local Election Commissions should also attach importance to inspecting and supervising citizens' practice of voting right at each polling station in line with the laws so as to promptly detect and handle arising situations, and regularly report situation at polling stations to the National Election Council.