Vietnam, New Zealand promote security, police cooperation
16:22 13/07/2021
Minister of Public Security General To Lam received incoming Ambassador of New Zealand to Vietnam Tredene Dobson on July 12 in Hanoi.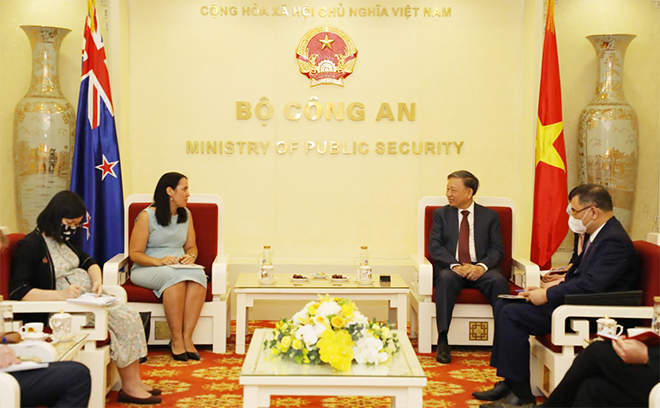 Minister To Lam and Ambassador Tredene Dobson at the event.
At the reception, Minister To Lam congratulated Ms. Tredene Dobson on her appointment as the new Ambassador of New Zealand to Vietnam and expressed his pleasure over the fine developments in the cooperation and relations between the two countries as well as between the Ministry of Public Security(MPS) of Vietnam and the New Zealand Police (NZP).
The host stressed that defense-security cooperation is one of the important pillars in the Vietnam and New Zealand relations, especially when the two countries are developing their strategic partnership in a practical and intensive manner.
Within the framework of the Cooperation Agreement on Combating Transnational Crimes signed by the two sides in September 2019 and through the New Zealand Police Liaison Officer to Thailand and Vietnam, the two sides regularly exchanged information about crimes, especially illicit drug trafficking, international terrorism, money laundering, and hi-tech crime, as well as coordinated in joint criminal investigation, criminal information verification, and capacity building for police officers.
Minister To Lam hoped that during her term of office in Vietnam, the newly-appointed Ambassador will act as a bridge to connect and further promote cooperation between the two countries in general and cooperation in the field of security and police in particular.
The Vietnamese Minister also spoke highly of New Zealand's success in controlling the COVID-19 pandemic and hoped that the country can share its anti-pandemic experience with Vietnam.
For her part, Ambassador Dobson thanked Minister Lam for the reception and expressed her honor to be appointed as Ambassador to Vietnam. In her position, Ambassador Dobson affirmed that she would do her best to strengthen the cooperation between New Zealand and Vietnam in general and between the NZP and the Vietnamese MPS in particular for the benefits of the two peoples as well as peace and stability in the region and in the world.