BLO of Vietnam and Cambodia provinces sign cooperation deal
Thứ Bảy, 18/03/2023, 17:49
The Border Liaison Office (BLO) on drug-related, environmental crimes and human trafficking of Tay Ninh province (Vietnam) on March 15 held a ceremony to sign cooperation deals with the BLOs of Cambodia's provinces of Svay Rieng and Tboung Khmum.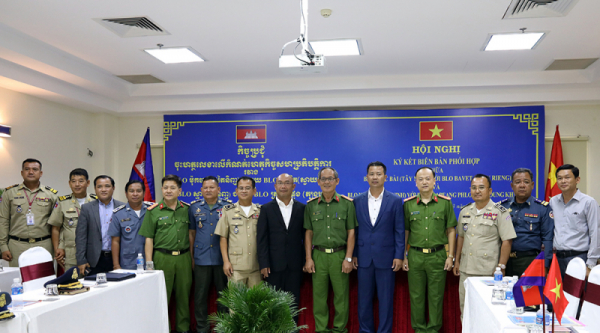 The BLO of Tay Ninh coordinated with relevant forces to crack down on 6 trans-border drug trafficking rings, in which 35 criminals were arrested in 2022, said Chief of Tay Ninh BLO and Vice Director of Tay Ninh Provincial Police Department Senior Colonel Ly Hong Sinh. 
Functional forces also seized 160 kg of drugs, 3 guns, 149 bullets among other exhibits. They also succeeded in arresting 3 wanted criminals and rescuing one person trafficked to Cambodia. Additionally, the functional forces dismantled a drug-trafficking case and, in which the 8 arrested confessed to having transported more than 100kg of illicit drugs into Vietnam earlier. 
The Cambodian Criminal Police Department and the BLO of Bavet province supported the Tay Ninh BLO in verifying, arresting and returning 13 Vietnamese runqway criminals who had committed fraud and illegal appropriation of property in cyberspace. Sinh added that the Vietnam-Cambodia borderline in the 3 provinces is one of the key and complicated routes for illegal drug trafficking and transportation. The provincial police of Tay Ninh investigated 252 cases and arrested 441 people.

Drug criminals have increased their activities, requiring functional forces of Vietnam and Cambodia to enhance their cooperation. At the signing ceremony, the parties discussed situations trans-border crime and cooperation in countering drug-related and other crimes between the provincial police forces of Tay Ninh and the two Cambodian localities.