Ceremony marks PSA's 75th founding anniversary
12:42 27/10/2021
The Hanoi-based People's Security Academy (PSA) held a ceremony on October 25 to mark its 75th founding anniversary (1946 - 2021), receive the First-class "Feat of Arms" Order, and open the 2021 - 2022 school year.
The event saw the presence of State President Nguyen Xuan Phuc, Minister of Public Security General To Lam, among incumbent and former leaders of the Public Security Central Party Committee, the Ministry of Public Security, as well as representatives from other Central-level agencies and ministries.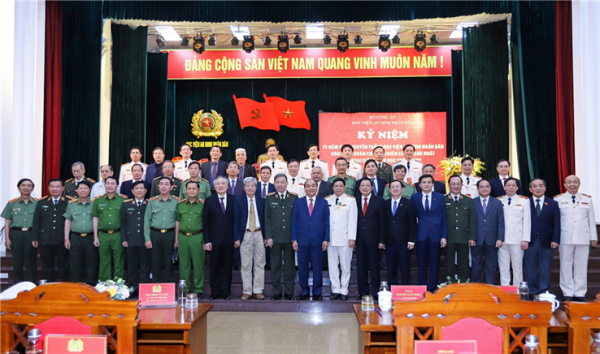 Over the past 75 years, under the sound leadership of the Party, the Government, and the Ministry of Public Security, the PSA has overcome all difficulties and successfully fulfilled its tasks of training public security officers as well as become a prestigious educational and research institution of the Public Security Forces and the country, greatly contributing to the cause of safeguarding national security and social safety.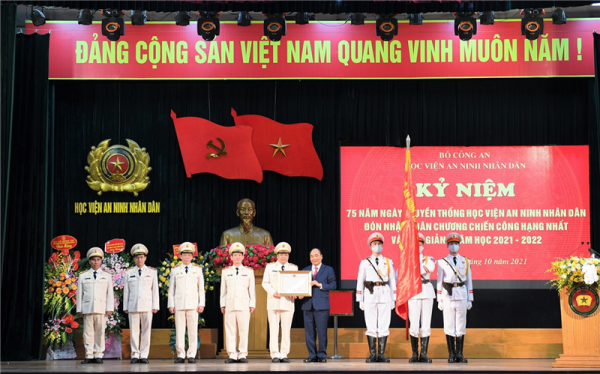 A number of graduates from the academy have held important positions in Party agencies, the Government and the Ministry of Public Security as well as received the title "Hero of the People's Armed Forces" or become prestigious scientists.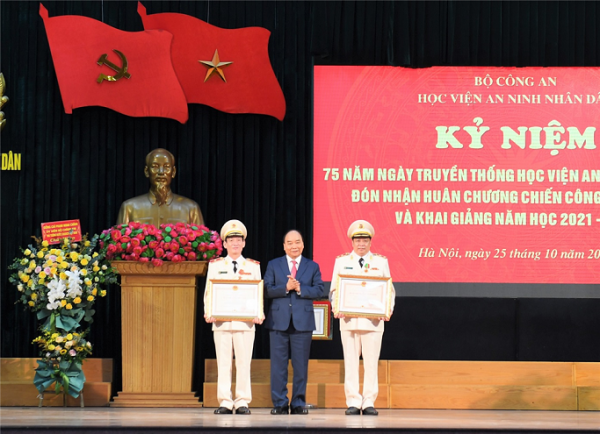 In recognition of its great achievements and contributions, the PSA was presented with many noble awards by the Party and State, including the Gold Star Order, the Ho Chi Minh Order. During its 75-year history, the academy was granted the tittle "Hero of the People's Armed Forces" twice and visited by President Ho Chi Minh eight times.
Addressing the ceremony, State President Nguyen Xuan Phuc asked the leaders of the PSA to promote innovations and strive to develop the academy to meet the requirements for education and training, contributing to safeguarding national security and social safety.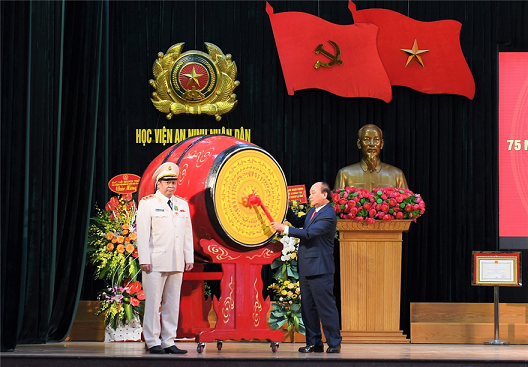 The State leader stressed that the most significant mission for the PSA and public security educational institutions at large is training personnel for the Public Security Forces, who are absolutely loyal to the Party, the Fatherland and the people, and give first and foremost priority to interests of the people and the country. 
State President Phuc also requested the academy to pay more attention to developing its corps of qualified teachers and educational administrators while improving the quality of its education and research and crafting its development strategies towards 2030 with a vision to 2045, contributing to building revolutionary, modernized and elite People's Security Forces.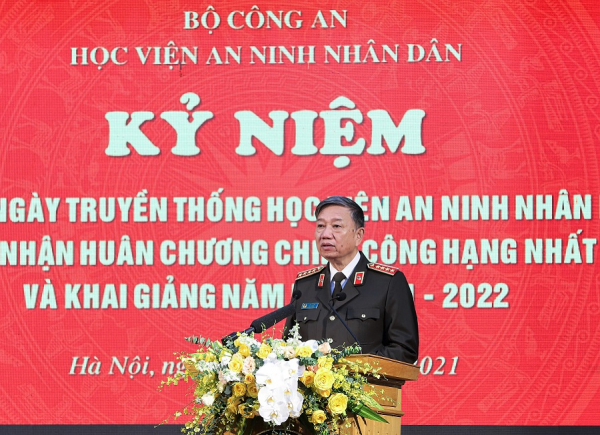 The PSA should actively boost international cooperation in training and research while paying due attention to Party building, the State leader added.
In his speech, Minister To Lam requested the PSA and the People's Public Security Forces in general to strictly follow the directions of State President Phuc while executing their working programs in the 2021-2022 school year and in the future.